Alienware comes up with new laptops for gamers who want thinner laptops. To overcome the thicker laptop problem there must be something you should sacrifice, in that case for thinner laptops you have to sacrifice the performance. Alienware flagship X15 and X17 laptops to be the thinnest yet and for heating, they used special cooling technology. Let's know more about these laptops!
Alienware's X15
Alienware's X15 is 15.6inch and its maximum weight is 2.63kg. It is the thinnest gaming laptop yet. It is using recently launched 11th-generation H-series processors of Intel. Its specifications are 8 core/ 16 thread, core i7-11800H processor which you can upgrade to i9-11900H. It comes up with 16GB by default but you can configure it up to 32GB DDR4 3200MHz RAM.
Display dimensions ranging 2,560*1,440 with 240Hz refresh rate panel which supports Nividia GeForce RTX 3060(6GB), featured with 400nits of maximum brightness and covering 99% of DCI-P9 color gamut. There is a 1080p display option too with a 1ms response time and a 360Hz refresh rate.
The X15 has an 87Wh battery with a small form of an adapter of 240W. In addition, it has a 720p webcam with Windows Hello support, dual microphones, Wi-Fi 6E, and Bluetooth 5.2.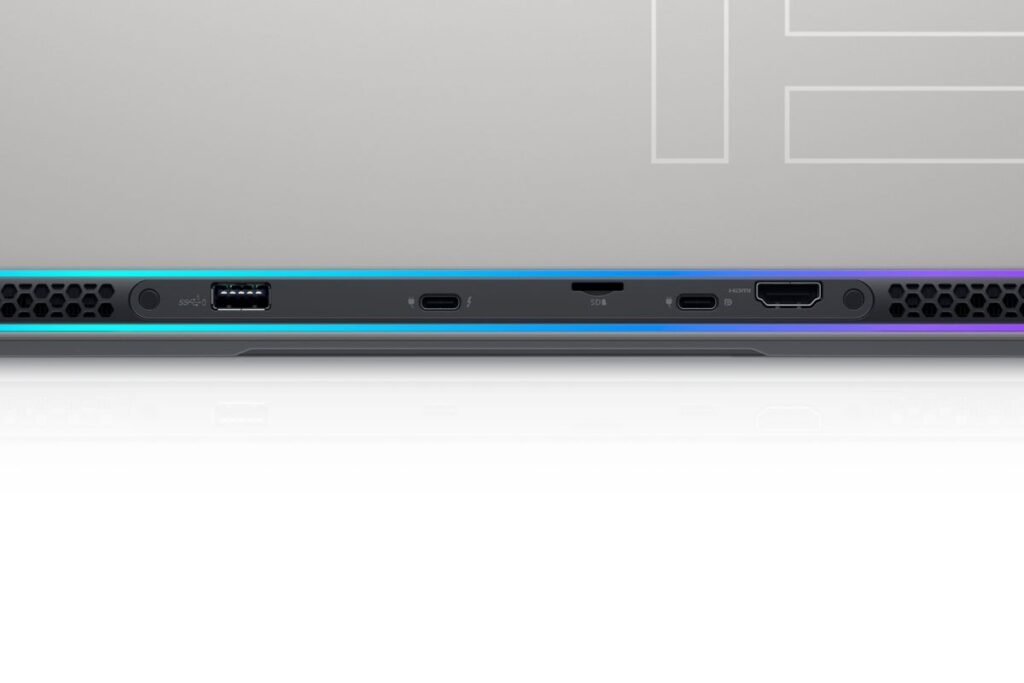 All ports of X15 are on the back except the power input and headphone jack. There are USB-A 3.2Gen 1 port, one USB-C 3.2Gen 2 port, one Thunderbolt 4 port, a microSD card slot, and an HDMI 2.1 port. All these ports output a 4K signal up to 120Hz.
Alienware's X17
If you think X15 is small then go for Alienware X17 which is 17.3inch with 3.2 kg weight. It uses the same specs as X15 for CPU, GPU, and storage. In an addition, users can change their configurations.
Display dimensions ranging 2,560 * 1,440 with 120Hz refresh rate. There is a 1080p panel also there with a 1ms response time and 360Hz refresh rate and their 165Hz refresh rate option available. It also supports Nvidia GeForce RTX 3060, with a maximum of 500nits for brightness.
X17 also has an 87Wh battery with an option of a 240W or 330W power supply adapter depends upon the configuration of the laptop you buy.
The ports of X17 also reside on the back as X15's. Power input and headphone jack are on the sides. X17 has more ports than X15, including one extra USB-A and C ports and a Mini Display port 1.4.
X17 offers CherryMX Switches which packs a few more millimeters of travel but with Alienware's key customizations.
Cooling System
As these laptops are thinner than the rest of the other gaming laptops they could have a problem regarding throttling and overheating. So company comes up with a cooling system model which is using "an exclusive thermal interface material (TIM)" which is made up of an encapsulated gallium silicon liquid metal compound.
Alienware uses 4 fans with processors. They added TIM in quad-fan design with sensors to deliver the right amount of fan speed and graphics voltage regulation 8 phase for X15 and 12-phase for X17. This will improve the performance of the laptops.
Alienware selling X15 and X17 from 15 June onwards starting range of these are $2,000 and $2,100. If you want a laptop for gaming that is thinner and performance for you does not matter then go for it! I hope you like this information.