Acer has unveiled the new Predator Orion 7000 series desktops equipped with the latest 12th Gen Intel Core overclockable processors, and a stunning design. Its initial shipments will be sent to China, Europe, and the Middle East in the first quarter of 2022, while the United States will see the gaming PC in the second quarter.
Along with this, the company has also revealed two smart 4K gaming projectors, the Predator gaming desk (which offers two practical surface options and a convenient storage rack), Acer L811 4K projector, and two new WQHD monitors for Home Entertainment.
So, let's start with the new Predator desktop first.
Acer Predator Orion 7000
Designed for hard-core gaming enthusiasts, the new Acer Predator Orion 7000 upgradeable gaming PC comes with up to NVIDIA GeForce RTX 3080 and 3090 GPUs with plans to use up to 64GB of DDR5-4000 RAM along with being PCIe Gen 5.0 compatible. Acer also plans to ship with up to two 1TB M.2 PCIe 4.0 NVMe SSD memory modules with a "hot-swappable" hard drive bay that will hold a 2.5-inch drive, and two 3.5-inch SATA3 HDD (up to 3 TB each).
Orion 7000 will use Acer's in-house Predator FrostBlade 2.0 cooling fans, with two 140 mm fans in the front and a single 120 mm in the back for heat exhaust. A model also sported with a 240 mm AIO at the top and the chassis will be free of using any hardware that would require tools, giving more access inside the gaming rig.
The rig measures 19.8 x 19 x 86 inches and is equipped with an RGB lighting motherboard, cooling fans, and a water cooling pump that will shine through the case's tempered glass panel located on the side.
For connectivity the case will have one USB-C 3.2 Gen 1 port, three USB-A 3.2 Gen 1 ports, and two audio jacks located on the front and additional three USB-A 3.2 Gen 2 ports, a single USB-C 3.2 Gen 2×2 port, two USB 2.0 ports, and three more audio jacks for plenty of extra device connections at the back of the case. The Acer Predator Orion 7000 is Microsoft Windows 11 ready as well.
Currently, there's no MSRP for the Predator Orion 7000 (P07-640) for the US, but will be priced at €2,199 in Europe and in China for 20,000 renminbi.
Predator GD711 and Predator GM712 Gaming Projectors
The Predator GD711, a smart 4K LED gaming projector that is compatible with both console and PC gaming systems, features a wide color gamut that amounts to 125% the area ratio of Rec. 709, has 4,000 LED lumens of brightness, high dynamic contrast, and HDR10 performance.
The projector includes several modes that users can shift between depending on their mood.
Standard mode offers 4K (3840 x 2160) resolution for enjoying movies and videos in sharp detail.
The other two game modes—one for bright scenes, another for dark ones—let users pick frame settings optimized for the aesthetics of the game they're playing.
The Predator GD711 projects images with a variable refresh rate mode of 1080p@120 Hz for consoles or up to a blazing fast 1080p@240 Hz for PCs. For Connectivity it has two HDMI 2.0 ports for PCs and consoles, audio out for an extra speaker, and three USB type-A ports.
Now as for Predator GM712, it's for users who prefer lamp-based projectors, the Predator GM712 is also available with 4K resolution and 3,600 ANSI lumens of brightness.
The Predator GD711 Projector (GD711) will be available in Europe in December starting at €1,499; and in China in November, starting at 11,999. While the Predator GM712 Projector (GM712) will be available in Europe in January 2022 starting at €1,399; and in China in November, starting at 10,999 renminbi.
Predator Gaming Desk
The large 55-inch Predator Gaming Desk (PGD110) provides ample room for a gaming system, monitor, accessories, and more. Outfitted with ample storage space, the Predator gaming desk comes with a rack for storing gamepads and/or cartridges, a headphone hook, a cup holder, and a tray tucked in the back for AC adapters.
It also has the convenience of a headset cradle to save desk space, a cup holder to prevent spills, and a cable management cutout on each side of the desk to keep cables organized and out of the way.
Gamers can choose from two surfaces – one coated in an easy-to-clean, stylish carbon fiber or another covered with a custom-designed Predator mouse pad.
The Predator Gaming Desk (PGD110) will be available in Europe in December starting at €229.
Acer L811 Laser Projector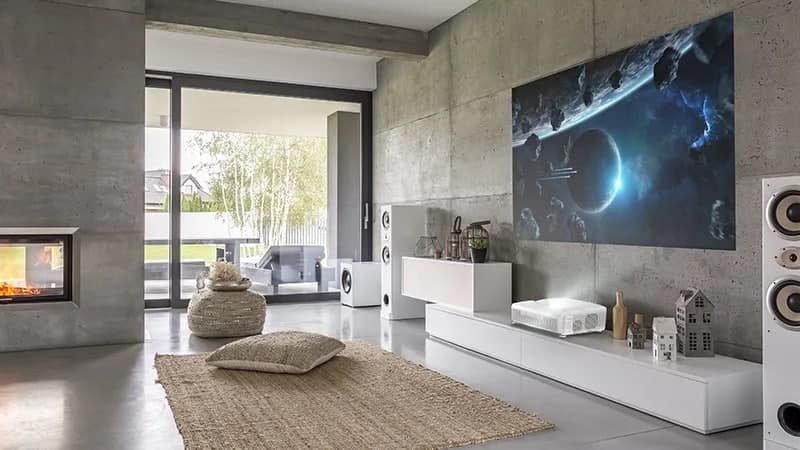 The Acer L811, an ultra-short-throw laser projector, offers HDR10-compatible 4K resolution and 3,000 lumens of brightness for an incredible home-theater experience. Capable of offering a 120-inch projection from only 0.312 meters (1.02 feet), the device defeats space limitations. Content can also be projected in 3D at 144 Hz 24P via 3D Blu-ray.
The projector has a lifespan of 30,000 hours and comes preloaded with an app market that enables users to enjoy a variety of streaming services, social media platforms, and more, right out of the box—no wires necessary. Users can also wirelessly mirror content via Miracast if using Android or Windows devices, or via EShare if using iOS or Android.
Low input lag, an option for 240 Hz at 1080p, and two built-in 10W speakers enhanced with Acer TrueHarmon technology enhances the quality of video and audio. With an IP6X dust-tight certification, the highest grade available for solid particles, the L811 is a very durable projector that offers reliable performance even in dusty or outdoor environments.
The Acer L811 projector (UL5630) will be available in Europe in November at €2,599, and in China in November at 29,999 renminbi.
Nitro XV2 Gaming Monitor
The Nitro XV272U KF, a 27" WQHD gaming monitor, boasts a 300 Hz refresh rate for seriously smooth visuals and features AMD FreeSyn Premium Technology, which enhances visual performance by varying the display's refresh rate to match that of the GPU, eliminating choppy gameplay.
With a low 0.5 ms (G-to-G) response time, the monitor is VESA DisplayHD 600-Certified, has 90% coverage of the DCI-P3 color gamut and Delta E<1 color accuracy rating to make games look more lifelike. Additionally, the monitor is TÜV/Eyesafe certified.
Coming with Acer Display Widget, the Nitro XV272U KF monitor sits on an Ergostand that allows users to find the perfect viewing angle by adjusting its tilt, height, swivel, and pivot.
The Nitro XV272U KF monitor will be available in North America in November at $1,099.99; in Europe in November at €1,149, and in China in November at 6,999 renminbi.
Acer CB273U Monitor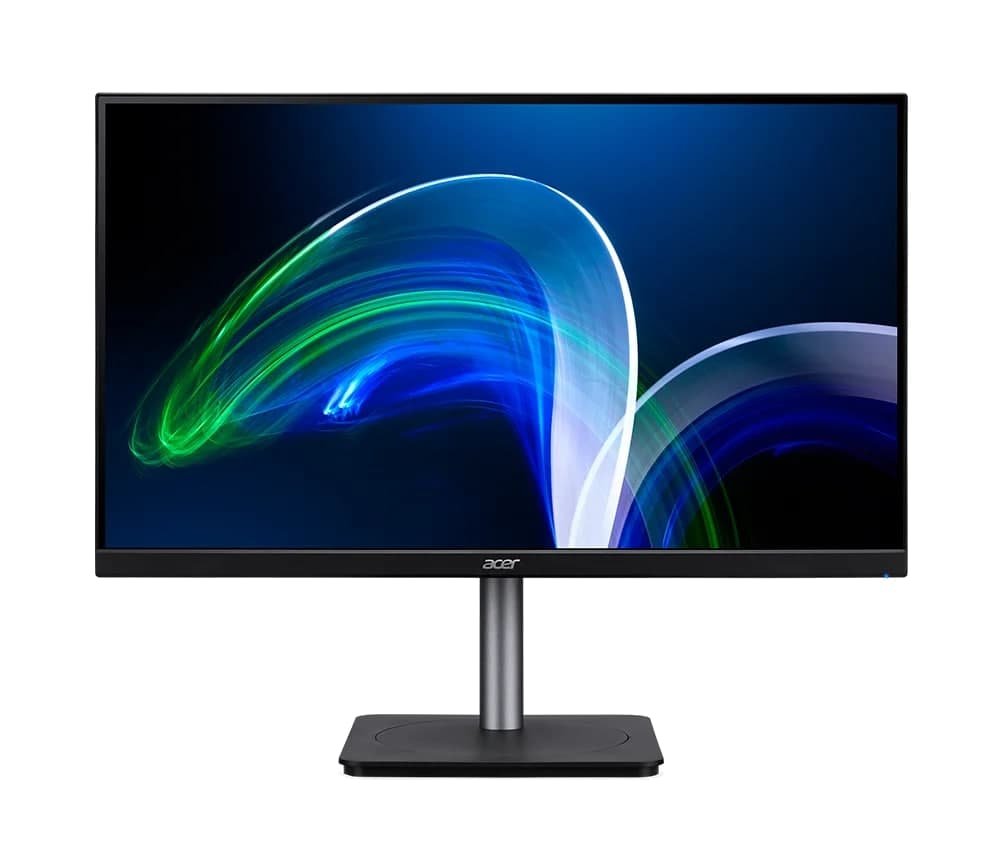 The Acer CB273U, a 27" WQHD (2560×1440) IPS monitor, displays vivid 8-Bit colors for great photo editing and designing purposes. Coming with HDR10 support, it also has AMD FreeSync that makes gameplay smoother and decreases lag for virtually blur-free images, further enhanced by a 1 ms Visual Response Boost (VRB).
Monitor has 178-degree wide viewing angles and a docking station, that includes a 90W USB Type-C port that supports power delivery for notebooks, an RJ45 Gigabit Ethernet port, and a built-in KVM switch (to switch between desktops and laptops easily).
Acer CB273U is TÜV/Eyesafe certified and has Acer BlueLightShield Pro technology, Acer Flickerless technology to eliminate screen flickering, and Acer's low-dimming technology.
The Acer CB273U monitor will be available in North America in November at $439.99; in Europe in November at €449; and in China in November at 2,999 renminbi.