Cosmetics are a vital part of life for many people helping people to feel confident under their skin. But what if these cosmetics turn out to be fatal? Recently in a new study the toxic per- and poly-fluoroalkyl substances (PFAS) 'Forever Chemicals have been found in renowned brands throughout the U.S. and Canada, deteriorating health due to cancer, liver diseases, thyroid diseases, and reduced birth weight.
These long-lasting chemicals branch out into the environment, demolishing life by the usage of PFAS. They get down our trachea when we apply lipstick or are absorbed by our skin from the foundation. We cannot enrich our skin with such injurious beauty products.
Testing Products
Researchers tested 231 makeup and personal care products and discovered that 56% of foundation and eye makeup, 48% lip products, and 47% of mascaras had fluorine adulterations.
The highest levels of forever chemicals were in waterproof products like mascara (82% of brands), foundations (63%), and liquid lipsticks (62%). Twenty-nine products with high concentrations of PFAS were tested again and found 4 to 13 specific chemicals with only one product to mention the chemical on the label. Many products were PFAS free indicating, manufacturing cosmetics without forever chemicals is possible.
Testing included products of renowned brands, L'Oreal, Mac, Estee Lauder, Clinique, Nars, Smashbox, Ulta, Cover Girl, and many more. The study didn't reveal the names of the brands containing PFAS in their products as they didn't want to pick on the companies and make it a brand rivalry. Also, FDA (Food and Drug Administration) said that they do not comment on specific studies. 
Cosmetics and its Hazards
Cosmetics are one direct reason for an array of many health problems because they aren't refined but flooded with hazardous chemicals leading to various diseases like Cancer, Liver diseases, Thyroid, decreased immunity, hormone disruption, and other health problems.   
Chemicals found in cosmetics contaminate the environment during the time of disposal. It is a wake-up call for all cosmetic industries to stop compromising health and regulate the use of chemicals before they get into our bloodstream and start accumulating there. Moreover, personal care everyday products cause extensive harm due to the presence of forever chemicals in them.
"Lipstick wearers may inadvertently eat several pounds of lipstick in their lifetimes," Graham Peaslee, senior author of the study said to Eureka Alert.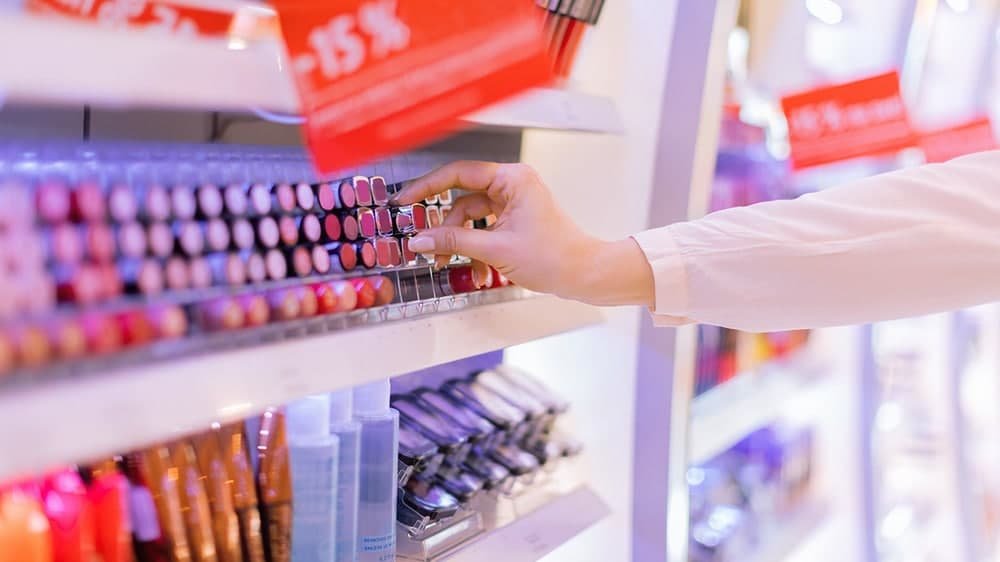 Everyday Products do contain Forever Chemicals
Most of the health problems are a result of the presence of Forever Chemicals in personal care products. Due to the extensive use of these products in our daily life the risk heightens. The use of these compounds in countless day-to-day items, from nonstick cookware, water repellent sports gear, cosmetics to grease-resistant food packaging and firefighting foams, has brought us closer to diseases.
The use of chemicals is to maintain the consistency and texture of the products. How logical is it to keep product consistency before health?
The usage of PFAS in consumer products is of great concern for lawmakers. A group of senators introduced a bill to ban the use of PFAS in cosmetics and other beauty products after the study results were out. This move to ban PFAS had wide-ranging legislation to clean up contaminated sites across the country.
"There is nothing safe and nothing good about PFAS," said Senator Richard Blumenthal to CBS. "These chemicals are a menace hidden in plain sight that people literally display on their faces every day."
No Labellings
The sponsor of bills related to PFAS, Rep. Debbie Dingell, checked her cosmetics but improper labelling led her nowhere. Labelling is an issue due to which people find it difficult to get an authentic product. Proper government labelling or the mentioning of the components in the products will solve the purpose.
Banning PFAS is necessary because people should know to trust the product they are applying to themselves. Government authorities need to work fast to save lives. Trust should not be backstabbed as aware and angry consumers are most dangerous.