Denon, a Japanese company that has a legacy of around decades of launching a hi-fi system for sound enthusiasts, has recently launched two new and their very first TWS earbuds i.e. Denon AH-C830NCW and AH-C630W.
Externally, both models are very hard to distinguish. But if you look carefully at AH-C630W, it has a silver accent at the bottom, and which is the only difference that helps you to distinguish between the two from outside.
Specifications
The higher-end model AH-C830NCW features active noise canceling, ambient sound mixing, attachment detection, and Google Fast Pair while Denon AH-C630W lacks all these specifications. Both models use built-in dynamic drivers, where the higher one has 11X10mm and the lower one has a 10x10mm driver.
AH-C830NCW also supports echo cancellation technology, which aims to prevent you from being distracted while taking the calls. Its noise-canceling technology is a hybrid solution composed of new algorithms and two microphones on each earpiece: one for feedback and another for feedforward. The ambient sound mixing feature allows you to hear in case you were not using earbuds. You can toggle between both modes by tapping the left atrium.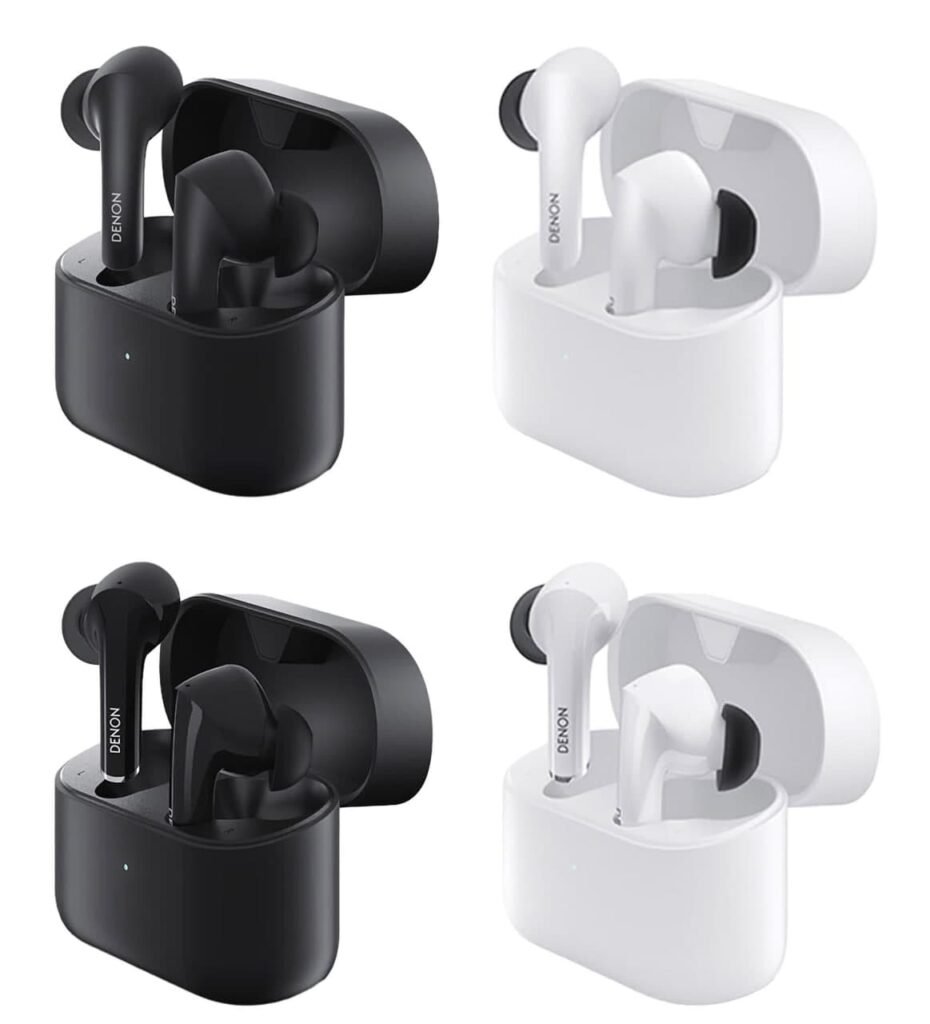 Demon features Airpod like design with a stem. It claims that the design of the case is aimed at reducing wear fatigue. To improve signal quality unlike Apple, Denon Earbuds stem appear where antennas are set up rather than where the battery is located.
For connectivity, both models have Bluetooth support. Unfortunately, Denon earbuds are not Hi-Res audio certified because they opted for the support of SBC and AAC codecs. Also, both earbuds are IPX4 rated and therefore considered to be resistant to perspiration. So, you can use them while exercising.
Denon claims that its new TWS earbuds will provide a feeling of openness with more relaxed and dynamic sounds. AH-C830NCW battery lasts for 6 hours with ANC (24 hours with charging case) and 4.5 hours without ANC (19 hours with charging case). While the AH-C630 battery lasts for 4.5 hours (18 hours with charging case).

"The AH-C830NCW and AH-C630W aimed to reflect the sound of Denon's Hi-Fi audio directly on the earphones. In addition, we strived for outstanding sound quality that would make a presence in a vibrant market with a large number of competing products," (via TechSpot) said Shinichi Yamauchi, Denon's sound master, who handled the calibration of the two models.
Availability and Pricing
Both Denon's in-ear headphones will be available in black and white and include silicon ear tips sizes S, M, and L. AH-C630W is expected to cost around $95 while AH-C830NCW will cost twice, as much as $185, and both will hit the market starting mid-October this year.