Earth 300 is the first futuristic oceanic research vessel powered by a revolutionary propulsion system. The CEO of EARTH 300 is Aaron Olivera. He was the president of Falcon Royal yacht, helped to create a mega luxurious yacht, and has experience in a myriad of industries.
As per Money FM, he thought of yacht and voyage in 2015. They are planning to voyage EARTH 300 in 2025 with 160 selected scientists, 20 lucky students, and 40 VIPS who can each pay $3 million for tickets (via Bloomberg).
Olivera said, "The oceans are the beating heart of the planet. Without oceans, there cannot be any life."
The cruise industry's power players pay $32,000 to $383,000 to their employees. European and South Korean shipyards are carrying yachts construction according to the report from The Entrepreneur. The yacht cost $500 million to $700 million.
The incident leads to bringing the idea of working with the "brightest and smartest" scientist on the new-age ship Earth 300
While doing scuba diving in the Maldives CEO found a dead coral killed by the over-acidification in the ocean this incident leads to the discovery of EARTH 300.
The main reason behind this project was to study the effect of climate change and come up with a solution. "The idea was to design an object that would be able to capture everybody's imaginations on a worldwide scale," said Aaron Olivera, adding: "There's nothing like this." It is designed to conduct experiments worldwide for the betterment of the future.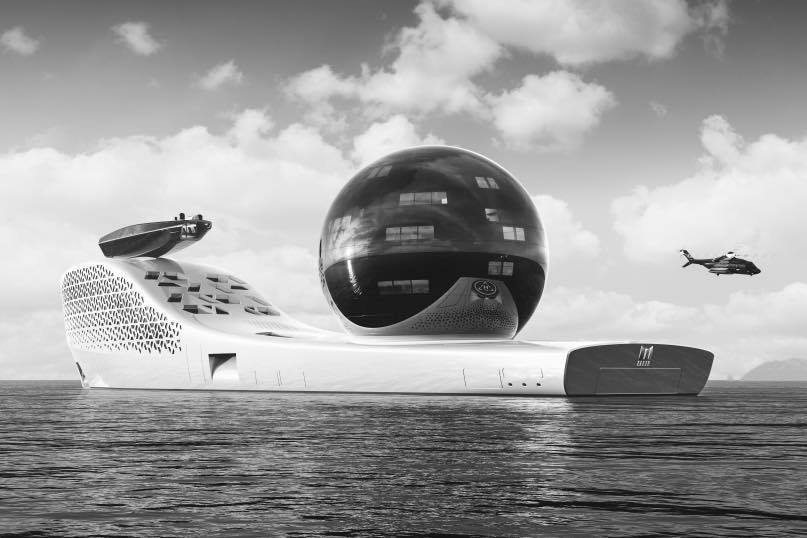 Earth 300 is powered by safe and sustainable nuclear energy from a molten salt reactor. The yacht was designed in such a manner that it can be powered with a 100% carbon-free propulsion system. According to EARTH 300, the marine version of the Molten salt reactor produces atomic energy with few moving parts and provides sustainable, clean energy for transportation in the ocean in the future.
EARTH 300 would be the first research vessel powered by a revolutionary propulsion system. It's 300 meters long,46 meters wide and 60 meters high. Yacht foredeck sport helideck for a chopper for further exploration by air while providing transport to and from the vessel. It has 22 "cutting edge" laboratories that have artificial intelligence, machine learning, real-time data processing, robotics, and the latest quantum computing.
"It's a vessel that's got the overall size of a cruise ship, but it's not a cruise ship. It's got the overall look of a superyacht, but it's not a superyacht," Olivera said on the radio show. "It's got the technology to rival an aircraft carrier, but it's not an aircraft carrier. It's going to have the endurance and the exploration skills of an explorer's vessel, but it's not an explorer's vessel."