During this pandemic, the demand for tablets has increased as compared to previous records. This is due to the work-from-home service, educational purposes, etc. Android tablets are inexpensive, user experience is better than the Apple tablets. So Google today announced a feature for tablets called "Entertainment Space" to make Android tablets more fun.
Purpose of Entertainment Space
This space saves your time by allowing you not to hop between apps for different purposes like watch, games, and read. As it will provide all things at one space only by giving 3 tabs at the top.
Watch Section
Watch space looks similar to GoogleTV on Chromecast but with a small screen. It will show the hero banner at the top followed by a list of apps that are installed on your device.
According to your taste, it will show the recommendations. If you have GoogleTV then you can also sync it with your tablet. Under this section, there is also space for kids-related data.
Apps that are included in this section are YouTube, Hulu, HBOMax, Disney+, Twitch, etc. But Netflix is not associated with this. You can also continue watching shows which are left in between.
Games Section
This section shows you different titles of games to try and continue playing games that you left in between. Google also gives the spotlight to 'instant play' without even downloading.
Read Section
This section allows you to continue reading books from Google Play Books, Marvel Books, Amazon Kindle, and Audiobooks. It will also show a list of Google popular books and books that are on sale.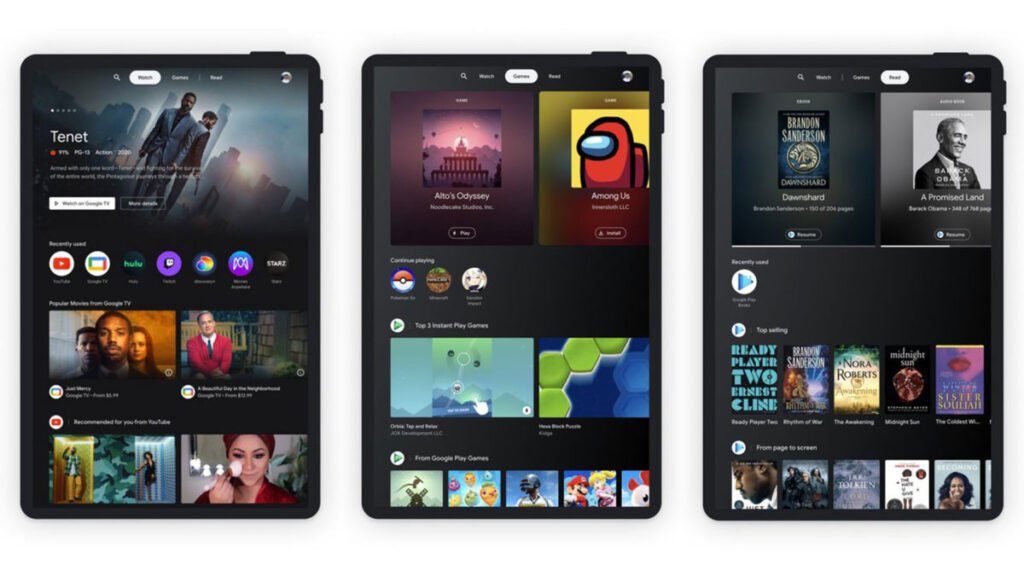 Does Entertainment Space available to all Tablets Company
First, this space is not an application but an integrated launcher in the tablet. No, entertainment space is not available to like Samsung Tablets but later it should be integrated. Until, it is only available in Lenovo, Walmart, and Sharp. Other brands of Android will also get this feature at the end of this year as said by Google. Entertainment Space is located on the left side of the Home screen of the tablet.
Is this space compulsory to use?
Don't worry! If you don't want to use this space you can turn it off simply by going to settings.
James Bender on BlogSpot
James Bender is a Product Manager at Google. He wrote in his blog that when users sign in to their subscription apps then Entertainment Space will show all content in one place only.
In the end, we can say that this feature is fabulous as all your needed things get at one space only or we can say that one spot. After a month, Walmart will be launched with this feature. From the previous incident (Pixel Slate crashed and burnt so badly) this feature is amazing.