According to hardware blogger YuuKi_AnS, the Qualification Samples (QS) or pre-release versions of Intel Core i9-12900K Alder Lake CPUs, are already being sold in the black market of China for over $1,000. Intel Alder Lake processors are expected to arrive in late 2021 or early 2022.
As reported by Tom's Hardware, the leaker claimed that Intel Core i9-12900K Alder Lake CPU samples are accessible for around 6900 to 7500 CNY (between $1,064.95 and $1,157.55) in the Black Market of China. These Qualification Samples (QS) are there for sale but in limited quantity, which greatly increases the possibility of the sample's source being disclosed and this is the reason behind the unwillingness of sellers and leakers to share images of the Alder Lake processors.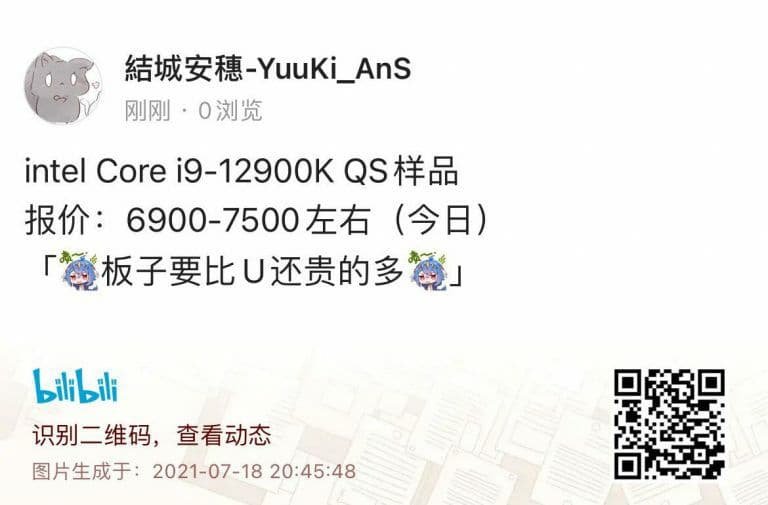 The anonymous seller is only reluctant to sell qualification samples of Alder Lake in bulk i.e 100 units (in minimum order) including engineering samples as well. As YuuKi_AnS says, the seller doesn't want to sell motherboards of Alder Lake as it commands a new LGA1700 socket which does not allow you to put the chip in any existing motherboard.
By the way, the selling price of the Core i9-12900K is irrelevant ($1,000). Paying $1,000 for an (unreleased) chip with which one will not even get a working motherboard is not making any sense. But still, according to a recent tweet from YuuKi_AnS (embed below), someone has bought the Intel Core i9-12900k QS CPU for 8100 CNY ($1,250).
According to rumors, the Intel Core i9-12900K Alder Lake CPU, which is the flagship SKU of the upcoming series, offers 8 bigger Golden Cove cores with 8 big Gracemont cores for an (8+8) configuration. The small cores are raised to 3.9 GHz and the big ones will raise to 5.3 GHz with the SKU going to feature 30 MB of L3 Cache.