The list of Intel Rocket Lake Xeon E-2300 series processors has been leaked out. This new processor with Intel Xe-LP graphics will be a part of Intel's codenamed Tatlow platform for entry-level servers and embedded applications. The chips are equipped with a variety of core counts and relatively moderate clocks
Unlike the previous series of Intel Xeon E-2200 processors based on Coffee Lake microarchitecture, the new Xeon E-2300 series CPU powered by the Cypress Cove microarchitecture has an integrated GPU Xe-LP architecture, AVX-512 support, 20 PCIe 4.0 channels, and DDR4-3200 support. Consequently, these processors provide overall higher performance and quick PCIe support than the Xeon E-2200 series processors.
According to hardware detective (unknown) @momomo_us (via Tom's Hardware) Intel Xeon E-2300 series CPU consists of 10 models with the thermal design power of 65W, 80W, and 95W. The lineup consists of three 8-core, three 6-core, and four quad-core processors. Note that the 8-core and 6-core are fairly moderate clocks compared to Intel Xeon W-1300 chips. This is logical as Intel is constrained by the cooling capabilities of an entry-level server.
As far as processor lineup is concerned, the Intel Rocket Lake Xeon E-2300 stack is composed of 10 chips based on 14nm Cypress Cove architecture. The chips are split into two SKU stacks, one with built-in graphics and another without it. To support the new brand processor, the socket type has been updated to LGA 1200 on Tatlow.
Intel Rocket Lake Xeon E-2300 Series CPUs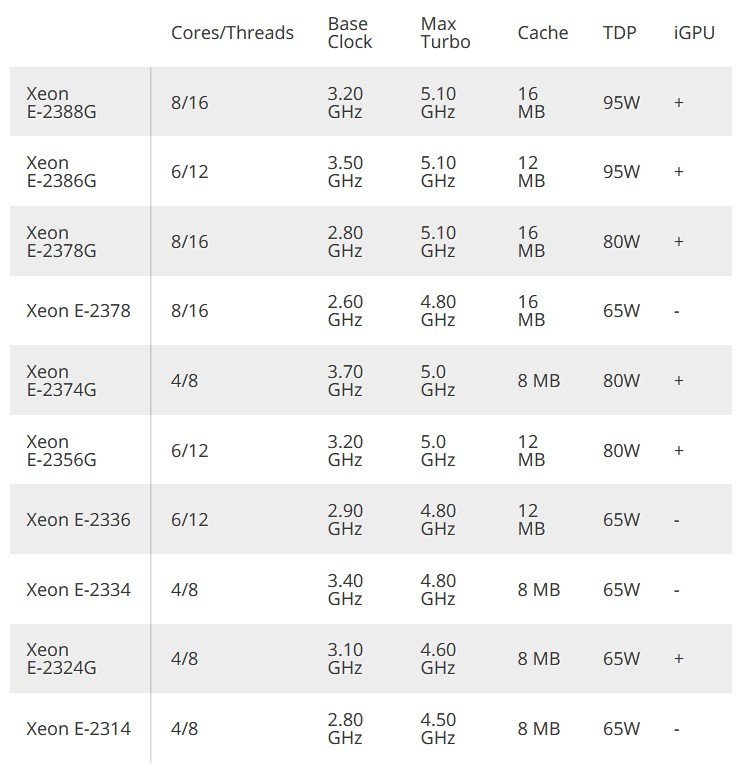 For media capabilities, Intel's Rocket lake processor has a 12-bit end-to-end video pipeline. This supports 4K/8Kp60 playback with Dolby Vision HDR, HEVC, and AV1 codec hardware decoding. Also, the Intel Xeon E-2300 processors motherboards are configured to have up to 4 DIMM slots, up to 3 PCIe slots, up to 8 SATA ports, and up to 2 M.2 slots.
As intel is officially positioning its Tatlow platform for tier 2/3 CSPs (Content Service Providers). So, it's interesting to see how this platform will compete with Intel's alternatives.
Don't forget that the above list we shared has come from an unofficial source and it is not verified officially. Although, the leak specs are generally correct at this point because the Tatlow platform will make an official announcement a few weeks ahead.