Just a few days after Intel revealed a bit of information about its Roadmap through 2025, YouTuber Moore's Law is Dead (MLID) has come with a leak detailing Intel's upcoming series of CPUs called Royal Core. This project is going to be more interesting, as it is set out by Intel's former VC President Jim Keller to make a Zen 5 Killer.
Intel has been using "CORE" branding on its CPUs since 2006 when the core was first introduced. And it is believed that in the future Intel can beat ARM and Apple in the level of efficiency with the help of this Royal Core project, which is "an attempt to evolve Intel's future architectures past Intel's current Core series, to deliver the biggest performance uplift in decades."
Intel's alleged roadmap through 2025:
Alder Lake: Q4 2021 / Q1 2022
Raptor Lake: Q3 2022 / Q4 2022
Meteor Lake: Q3 2023
Arrow Lake: Q4 2023
Lunar Lake: 2024
Nova Lake: 2025
These architectures will mix high-performance cores with power-efficient cores within the same package (big.LITTLE architecture). Alder Lake has 8 Golden Coves and 8 Gracemont Cores, totaling up to 16 physical cores and 24 threads depending on the configuration and SKU.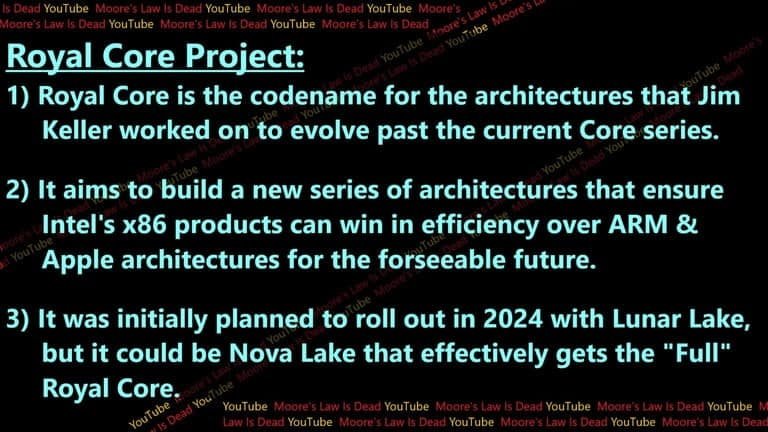 Based on the leak, Intel is aiming to put its Royal Core project in action with Lunar Lake in 2024, with a full version that shouldn't arrive until Nova Lake launches in 2025. The leaker claims that this will mark the biggest leap in Intel's performance after the introduction of the core series. He also laims that the company could be working toward four-way hyperthreading and support for DDR5-7400 memory by 2026.
By the way, these all are rumors, so we will ask you to take this information with a pinch of salt.