Mukesh Ambani announced some major projects at the 43rd Reliance Industries Annual General Meeting. The meeting held online due to this pandemic situation. The cherry on top was the Google partnership announcement.
Reliance Industries Limited announced that the telecommunication wing Jio is partnering with Google to develop an Android based Operating system. The OS will be available to the entry level Smartphones.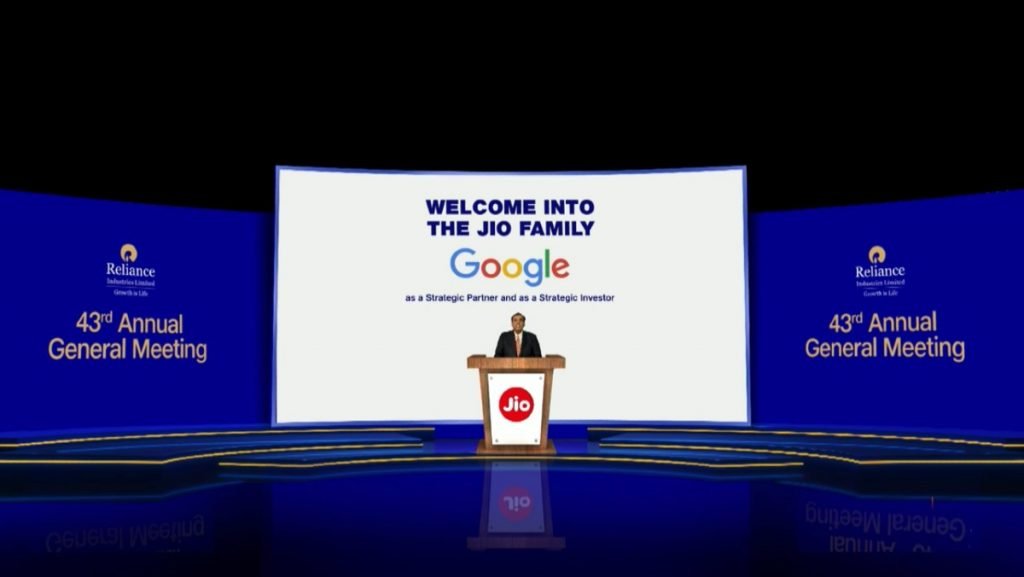 AFFORADABLE DIGITAL SERVICES
Ambani states that the company is aiming to make India "2G mukt". And to achieve this agenda, the company will provide affordable 4G and even 5G smartphones. And these Smartphones will run on their newly announced Operating System.
"Google and Reliance Jio are partnering to build a value-engineered Android-based smartphone operating system. Through this partnership, we can accelerate the national mission of putting a smart device in the hands of every Indian," Said Ambani.
JIO PHONES AND IT'S SALE OVER YEARS
Ambani further added that Jio is providing affordable smartphones to 35 crore users. The company launched Jio Phone and Jio Phone 2 running over KaiOS.
"Even though we have sold over 100 million [10 crores] Jio phones… there are many feature phone users who are waiting to upgrade to a conventional smartphone, if only it were somehow more affordable. So we have decided to address this challenge," Ambani stated.
GOOGLE HOLDS 7.7% SHARES OF JIO
Sundar Pichai, CEO of Google, also addressed the meeting through video. He said Google and Jio will partner together to provide affordable 4G smartphones to Indian users. Since they've boought 7.7% shares of Jio that estimates $4.5 billion. The investment was through the 'Google for India' Digitization fund.
Google will invest a total of $10 billion in Jio to boost the digital economy of India. The OS will roll out soon in the next generation of Jio phones and other entry models. With this Android based Operating System, users can access Play store.
Unlike Huawei's OS, the Jio's OS users can access every google service they need. Apps and Services like Gmail, Google Maps, playstore, Hangouts and more will be available.