Paperlike 253 – 25-inch Display
Ideally for devices which don't make use of color screen makes use of E Ink displays that are also used for eBook readers but could achieve low power consumption and good contrast. And Dasung is a company that makes use of E Ink for bigger displays focused on other applications that are rolling out their biggest monitor till now of 25-inch display- Paperlike 253 which is expected to release in 2021.
Better Option than LCD or OLED?
The users are in benefit as Dasung aims to target the audience which is not comfortable with traditional LCD or OLED monitors due to their bright colors, blue light, or screen flash leading to eye pain. So a group of people who works for hours in front of a screen or the children with developing eyes or elderly people can make use of these electronic paper displays. To date, 13.3-inch E Ink external monitor for laptops and 7.8-inch tablet has been designed and produced by Dasung. And with the idea of targeting a wider audience who desire E Ink instead of a regular screen, this Dasung's 25.3-inch Paperlike monitor is developed.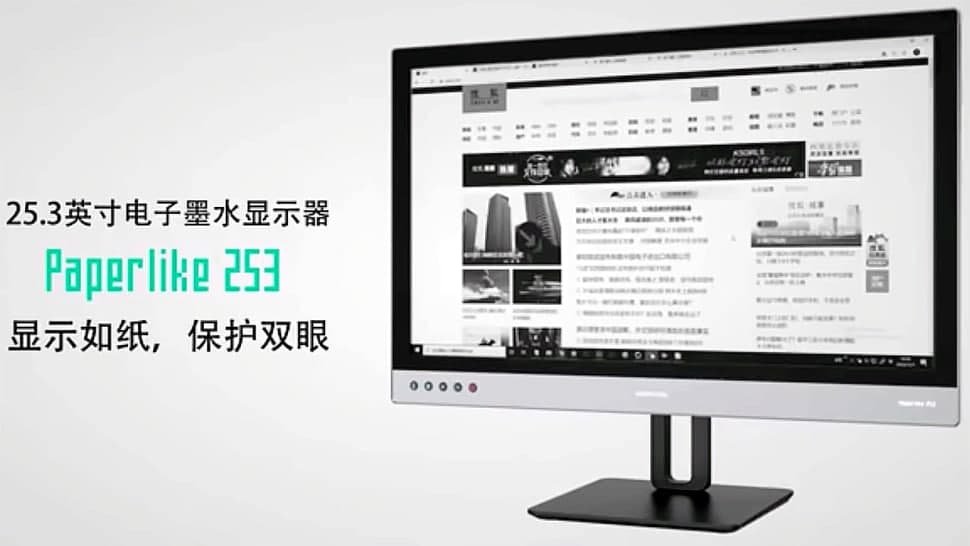 The Dasung Paperlike 253 is capable of displaying only 16 shades of gray which is quite less than its boasted 3200×1800 resolution. Any kind of backlighting is not used by the Paperlike 253 but the brightness can be increased by making use of a table lamp if required. The idea of design is not to bring it in the best gaming monitors due to its low refresh rates. It is best for one who is interested in works like write and read code or text only.
Price and Availability
No such launch date or price has been released by Dasung for its new product- Paperlike 253 as it recently demonstrated it in China to its potential customers. And Dasung does not aim to collect money to start its production through a crowdfunding platform but it needs certain reforms before it could be rolled out to the common public which could be as soon as 2021.
The company does not want to talk about the pricing of the product but it has revealed that it will cost "¥1xxx9" which is somewhere between ¥10009 & ¥19999. This cost may be without taxes and shipping amount. But it is speculated that it will cost somewhere around $1500 to $3000 as the 13.3-inches is sold for about $1000, so the new product will automatically expensive than older.