After launching Thunderbolt 4 with the maximum transfer rate of 40Gbps last year, Intel is currently working on next-gen Thunderbolt 5 and according to an image shown in a now-deleted tweet from an Intel executive, it might support a whopping 80Gbps transfer rate while retaining the same USB-C connector.
First noticed by Anandtech, the image in the now-deleted from  EVP and GM of Intel Client Computing Group Gregory Bryant on Twitter was an internal slide containing the details of Thunderbolt 5, like information about the connection's operation, including that it is tentatively called "USB 80G".
There was no evidence of Thunderbolt on the poster, but Bryan's latest tweet (embed above) claims that it was a Thunderbolt-related lab tour. The possibility of it being a poster about Thunderbolt 5 is the closeness of Thunderbolt and USB by Intel allowing the Thunderbolt 3 specification to be part of the USB 4 standard.
As shown in the poster, there is the connection "targeted to support the existing USB-C ecosystem," which clarifies that Intel plans to continue using the USB Type-C connection. It also had a mention its use of a "novel PAM-3 modulation technology" which showcases that Intel is keen to try a completely different system for transmitting bits than normal.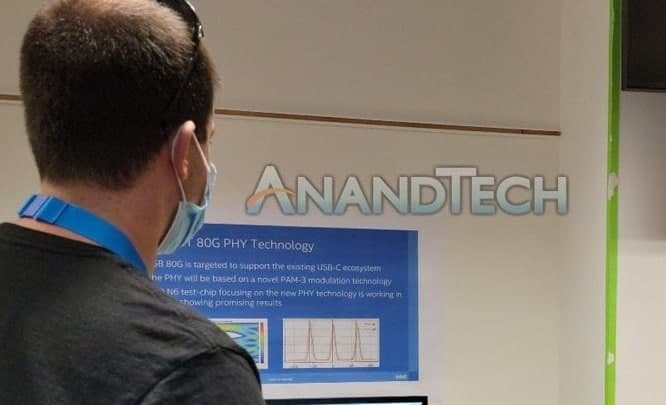 Thunderbolt 5 is expected to provide many of the existing benefits of Thunderbolt 3 such as power delivery, video, Thunderbolt networking, and high amounts of bandwidth. As per the leaks, if Thunderbolt 5 provides the doubled bandwidth from 40Gbps to 80Gbps, it will enable faster file transfers and sustain high-data communications between connected devices with fewer limitations.
Till now, there's no such formal information about Thunderbolt 5 and its release. And if it is any in the future, we'll keep you updated.