Ryzen 5 5600X: Latest Benchmarks
Benchmarks of AMD Ryzen 5 5600X has been uncovered by the @Tum_Apisak, chip detective for many chipsets, which will likely battle it out with Intel's Core i5-10600K.
Ryzen 5 5600X is under the Ryzen 5000 series which comes with 12 threads wielded with six Zen 3 cores, 32MB of L3 cache, speed of 3.7 GHz of the base clock, and 4.6GHz of boost clock. Six core and 12 thread design is embedded in the Core i5-10600K including a 12MB of L3 cache and features a 4.1GHz, 4.8GHz base clock, and boost clock, respectively.
How Strong Intel?
A higher boost clock and a more generous thermal limit are boosted by the Core i5-10600K. The thermal design power rating of the contender of Intel is 125W while the Ryzen 5 5600X is rated for 65W. According to the theory, the breathing room to execute should be faster for the Core i5-10600K but the Ryzen 5 5600X is not to be considered an unwanted soul, as it leverages AMD's groundbreaking Zen 3 microarchitecture, so it would be an exciting part to watch.
Though considering certain benchmarks can lead us to a conclusion on the processor's overall performance. Adding to this, sometimes benchmarks are a bit spiced if compared to the original product but Ryzen 5 5600X is considered to be the tough rival for Intel.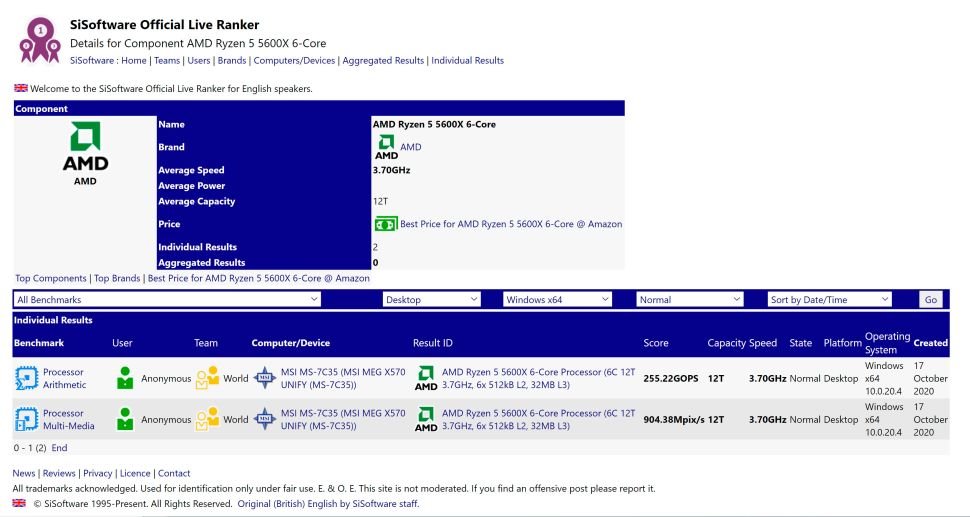 AMD v/s Intel
The Processor Arithmetic and Processor Multi-Media scores as per SiSoftware Sandra submissions of the Ryzen 5 5600X were 255.22 GOPS and 904.38 Mpix/s, respectively. On the other hand, the Core i5-10600K on average scored 224.07 GOPS and 662.33 Mpix/s, respectively. These results clearly state that the Core i5-10600K is outperformed by the Ryzen 5 5600X by 13.9% and 36.5%, respectively.
While in another context, the Ryzen 5 3600X scored 214.89 GOPS and 625.51 Mpix/s on average in Processor Arithmetic and Processor Multi-Media, respectively. So it clearly shows the result that as compared to the previous-gen counterpart of Ryzen 5 5600X, it improved up to 18.8% and 44.6%. The gains for the Ryzen 9 5950X over the Ryzen 9 3950X showed the trend of performance improvements falls more or less in line.
November 5: Purchase Starts
November 5 are the dates when the AMD's Ryzen 5000 processors go for purchase and this submission by SiSoftware Sandra is just one piece of the puzzle. And soon we at Craffic will aim to provide you with the latest updates regarding any such benchmarks.