Apple on Monday introduced an anchor of new features for its iPhone operating system with the release of iOS 15 in WWDC 2021. The new iOS has a wide range of new features which include more engaging FaceTime calls, the ability to organize and prioritize notifications, updates to Apple Wallet to let users store keys for places, and many more.
How new iOS 15 is different?
As we know odd-numbered iOS more continual than innovative and the same is new iOS 15. It is more or less an improvement of iOS 14. So we should not expect a brand organizational system or widgets but we are getting features that will make those features much better. 
Features of new iOS 15
FaceTime
New iOS 15 has many new FaceTime features which include:
Spatial audio, where the audio comes from where participants are displayed in the call.
Voice isolation and Wide Spectrum listening in which machine learning is used to filter out or enhance surrounding noise.
New grid view for FaceTime calls.
It also includes Portrait Mode which automatically blurs out your background.
New iOS 15 users will also be able to share FaceTime links which can set a reminder in the calendar and can be shared with Android and Windows users.
SharePlay lets you share video and audio during a call for listening and watching experience.
Messages
New iOS 15 has updated its messaging services, which are as follows:
Now, photos can now be shared in collages and stacks.
There's a new Shared with You category in Music, Photos, Apple TV, Podcasts, and Safari where its user will be able to see things that have been shared with Messages. For this, the new iOS 15 will use machine learning to bring personally relevant images to photos so that its user's photo library doesn't become flooded with memes.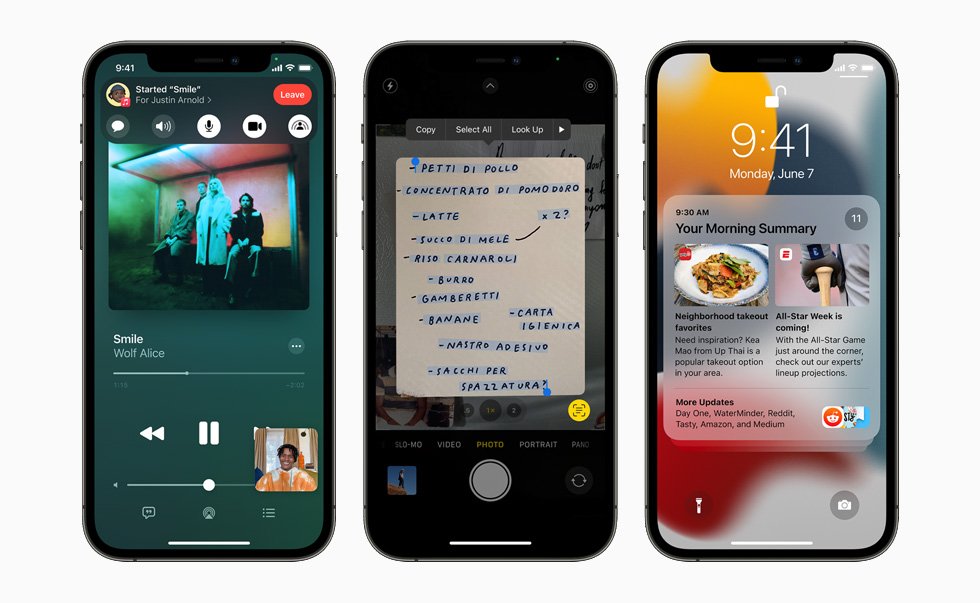 Notifications
Now contact photos could be seen for message notifications and larger app icons to help to more easily identify what's trying to grab the user's attention.
Scheduled Notification summaries will also be there, which use on-device intelligence to sort your notifications into a browsable collection but people's notifications won't be in summaries.
There is also the Do Not Disturb or Focus mode in which Messaging participants will be notified that the user is in DND mode and have a chance to contact you anyway.
The new Focus mode has a few defaults for Personal, Work, and Sleep in which iOS 15 suggests which apps should be able to notify in that mode and can create a special customized Home Screen for it.
Live Text
New iOS 15 is really bringing machine intelligence to bear with Live Text which includes:
One would be able to select text in images and copy and paste it into other apps.
Things like directly calling on phone numbers if one is shown in an image.
It will also recognize pictures of art pieces, books, nature, pets, and landmarks and offer pertinent information on the fly.
Spotlight
In the new iOS 15, the spotlight will use live text and machine intelligence to find things. 
And such could be done for actors, TV shows, and musicians as well.
Photos Memories
Photos app memories will get even better at capturing moments, incorporating Apple Music that's personalized as per taste.
Memory title cards are also now animated.
New iOS 15 is working in the background to change the music accordingly so that it stays in sync with changes.
Wallet
Ultra-Wideband (UWB) unlock and drive is coming to cars this year.
Wallet-enabled smart locks can be enabled with a home unlock card.
Corporate badges and state IDs are also introduced in Wallet.
Weather, Maps, and More
Now, the new iOS 15 have additional weather graphics and animations in the Weather app and new full-screen maps.
Voice search
Memoji outfits
Cross-app drag and drop
System-wide translation
Mail privacy protection
App privacy report in the Privacy app 
On-device audio processing for Siri to improve speed and privacy which can be used if there's no internet available.
matter support for HomeKit devices
Package detection for HomeKit cameras
When the new iOS 15 will be available?
The new iOS 15 will work with an iPhone 6S and above. Apple will make it available for public testing in July (probably with iPhone 13) but the developers have access to the iOS 15 Beta since yesterday. To know more about iOS 15 you can visit the Apple preview site.