Nest Cam and Nest Doorbell
We learned yesterday that Google is planning to release new Nest security cameras and doorbells. Today, the Mountain View behemoth unveiled them for the first time. The Google Nest Cam (battery), Nest Cam with floodlight, 2nd generation wired Nest Cam, and Nest Doorbell are among the newly announced Nest products (battery).
Battery-Powered Nest Cam
Google's first battery-powered security camera, the Google Nest Cam (battery), can be used both indoors and outdoors. It has a 2MP camera with a 130-degree field of view, 6x digital zoom, 1080p 30FPS video recording, and HDR night vision capability. The device is comprised of recycled materials and has an IP57 rating, according to Google. The enhanced TPU chip in the latest Nest Cam model allows for better identification of people, animals, and packages. The Google Nest Cam (battery) is equipped with a 6mAh lithium-ion battery and a magnetic base. You can also use a wire to connect it (sold separately).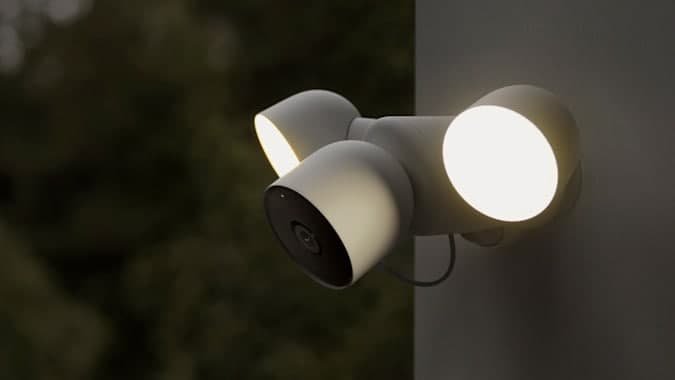 Wired Nest Cam
The wired Google Nest Cam has a lot in common with the Nest Cam IQ in terms of design. In terms of hardware, it's very similar to the battery-powered Nest Cam, with 1080p 30FPS recording, night vision, and a new TPU chip, but without the IP57 protection and magnetic base.
Floodlight Nest Cam
The Nest Cam with Floodlight combines two lights with the wired Nest Cam. It includes a local storage fallback and can record up to 1 hour of events on-device, just like the other Nest gadgets announced today.
Battery-Powered Nest Doorbell
Finally, as a wireless option, the new Google Nest Doorbell (battery) joins the existing Nest Hello. The new doorbell includes a better camera with a larger 145-degree field of view, a 3:4 aspect ratio, up to 6x digital zoom, and night vision up to 10 feet, in addition to a modern look. The new Nest Doorbell (battery) has an improved TPU chip for better facial recognition and can keep up to 3 hours of video history on the device, as well as an IP57 rating and two-way audio with noise cancellation. It has a built-in rechargeable battery, as the name suggests.
Pricing and Availability
Pre-orders for the battery-powered Nest Cam ($180) and Nest Doorbell ($180) begin today, with sales beginning on August 24. Meanwhile, the Nest Cam with floodlight ($280) and wired Nest Cam ($100) are "coming soon." Check out Google's official blog article for more information.