Do you think that all the information available on the internet is correct? Can we completely trust the internet? Well if you think yes then you must read this article about the Google algorithm going wrong. Yes, the Google algorithm mistakenly turned a Zurich-based engineer into a serial killer this week. Let's take a closer look at this incident.
How Google Algorithm turned an Engineer into a Serial Killer?
The latest victim of Google algorithmic screw-up is a Zurich-based Engineer named Hristo Georgiev who was wrongly labeled as a serial killer, popularly known as 'The Sadist', in the Google search of his name. Basically, what happened here is that whenever a search was made on the name of Georgiev, the search results showed the engineer's name along with his picture alongside a Wikipedia article mentioning him 'The Sadist'.
Well, talking about 'The Sadist', he was a Bulgarian rapist and serial killer who murdered 5 people, especially women between 1974 and 1980.
How did the Engineer learn about this?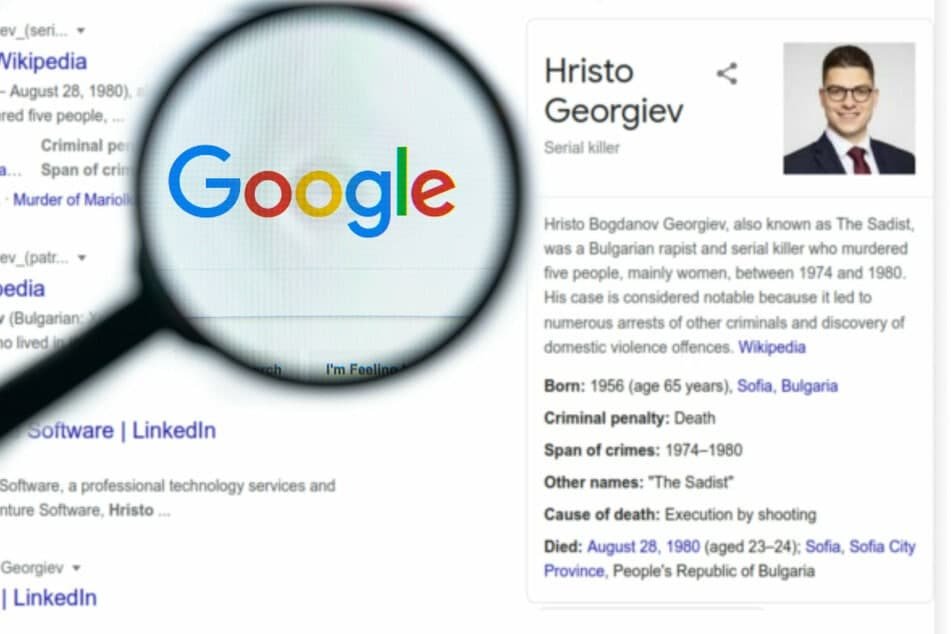 The software engineer Georgiev tells that while scrolling through his inbox his eyes caught an email from one of his colleagues popping the message that a Google search of his name is mentioning him as a "serial killer" along with his image in a Wikipedia article.
As soon as Georgiev learned about Google mentioning him as a Serial Killer he took to a blog post and said, "My first reaction was that somebody was trying to pull off some sort of an elaborate prank on me, but after opening the Wikipedia article itself, it turned out that there's no photo of me there whatsoever."
But when he himself discovered it he was shocked. "I quickly popped out my browser, opened Google, and typed in my name. And indeed my photo appeared over a description of a Bulgarian serial killer," he further added in the blog post.
Moreover, he also shared a screenshot of a search result and said that Google has falsely connected his photo in a Wikipedia article to a serial killer. He was totally confused about how to react and said, "I don't know if this is hilarious or terrifying."
Did Google solve this error?
Georgiev was almost terrified after this incident and believes that these algorithms which are used by billions of people can so easily bend the information in such a way that can truly be terrifying for them. Although this was a problem that was generated due to a wrong match made by the Google Knowledge Graph Algorithm, which linked the photo of Georgiev with the article about Bulgarian serial killer.
However, in the case of Georgiev, he was quite lucky as Google solved the error quickly after he took the help of Hacker News to raise the issue.
Was this the first time Google algorithm went wrong?
Well, this wasn't the first time for the Silicon Valley giants. Before this, there have been many instances when Google's search infobox or "knowledge panel" showed misleading information.
For example, despite being alive Paul Campbell was mentioned to have died in 2015, directed racist search terms to White House in Google maps, mentioned black people as gorillas in Google photos, and whatnot.
So readers, we just want to say that do not always trust the information available on the internet, especially the one related to your health and much more. As for the article, we still don't know why Google Knowledge Graph Algorithm used the image of Georgiev face in the search results.
This was all about the post. Do tell us in the comment section below what you think about whether you should trust the internet completely or not.