GoPro has launched the new Hero 9 Black action camera in its Hero Black-series action camera line-up, for all the photography enthusiasts and vloggers. The new GoPro Hero 9 action camera has an improved 20-megapixel sensor that offers 5K video recording at 30fps. And also have HyperSmooth 3.0 video stabilization with in-camera horizon leveling, dual-display, and a big capacity battery.
GoPro Hero 9 Black full specs details
The GoPro Hero 9 camera comes with attracting lens mode while offering its users the option of a removable lens. And this time Hero 9 Black has a color front LCD display, making sure you get clear about the frame you are capturing, with a 2.27 inches main screen color display at the back. In comparison with its last variant, Hero 9 is bigger and slightly heavier with a small bump around the camera at back and 5-6mm wider. This model also features enhanced HyperSmooth 3.0 technology, which will allow you to capture even more smoother images than previous GoPros.
5K recording at 30fps with 20MP sensor
This model offers a wide-angle video capturing mode with its 5K video recording at 30fps only while the 4k videos may be recorded at 30fps and 60 fps. It adorns a beautiful 23.6 MP sensor powered by a GP1 sensor capturing photos at 20MP which are more vibrant and livelier. Like the previous ones, the new camera will take photos in RAW and HDR. It also brings TimeWarp 3.0 and a webcam mode right out of the box. This new model will also be able to broadcast live from the camera in 1080p. Also both displays at the back and front come with touchscreen support.
Rugged design with Bigger battery life
And since GoPro Hero 9 is an action camera, it comes with a rugged design and have built-in folding mounting fingers. That is durable against water up to 10 meters. So, you don't have to worry about diving into water while carrying one of these. The GoPro Hero 9 Black weighs around 158g with a bigger 1,720mAh battery, which is almost 41% larger than the 1,220mAh battery found on the GoPro Hero 8 Black. This may mean an increase in battery life and you can now charge it via USB Type C port.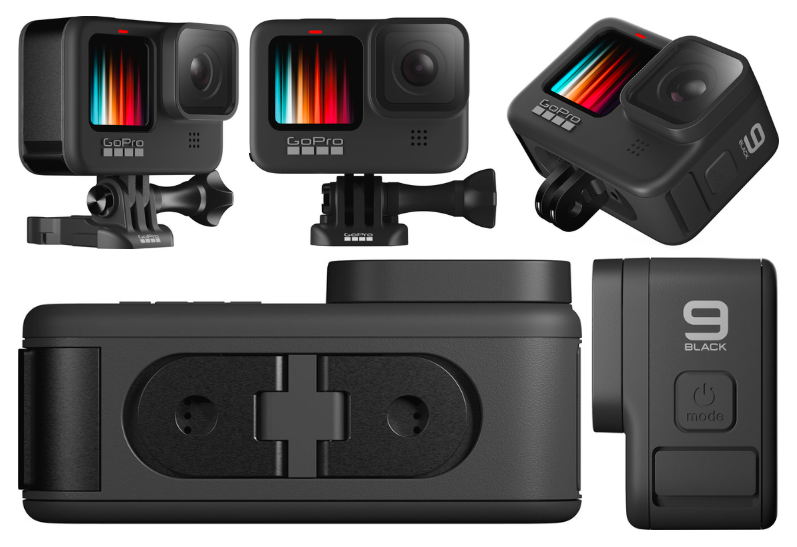 3 new features + Voice control system
GoPro has brought the 2020 version of Hero 9 with these latest features like Schedule Capture, Duration and Hindsinght. Schedule Capture enables the video recording at an automatic time and date. On the other hand, Duration sets the recording time of a particular event. And with both these features together you can do recording without any human intervention. While Hindsight feature records 30 seconds on a loop before pressing the shutter button. Last but not least GoPro Hero 9 will have a voice control system with 14 commands in 11 languages + 6 accents.
Price and Availablity
GoPro Hero 9 Black will be available in most countries from now onwards. But for those in India, the latest generation of the action camera will be on sale from late October onwards. The GoPro Hero 9 Black is priced at Rs 49,500 And its media mod with a removable foam windscreen and display mod will be available at Rs 8,400 and Rs 6,900, respectively. There is a light mod too which will be available at Rs 4,700.