Instagram already has many rules and processes to protect its users from offensive content with parameters in both, for your regular feed/stories and for Explore. And now it is providing an extra level of protection to its users by announcing a new feature "Sensitive Content Control" that allows you to manage the limit of potentially sensitive content in your Instagram Explore Tab. This new Setting will permit you to see less or more sensitive content that may be "upsetting and offensive".
According to Instagram's Support Page for Sensitive Content, content including sexually suggestive or violent posts, posts that promote things like tobacco or pharmaceutical use, comes under the category of sensitive content.
Posts that will breach the rules of Facebook will still be removed, and this new feature will take care of how much you want to be exposed to the sensitive content in the Explore tab by giving more options.
How to set Sensitive Content Control in Instagram?
All these settings are based on Facebook's Recommendation Guidelines which control what can be shown up on the Explore page, instead of its Community Guidelines. According to the company, to access this new feature head towards Settings>Account>Sensitive Content Control, then you will be given three options to select from:
Allow, may see more content that could be upsetting or offensive.
Limit, may see some content that could be upsetting or offensive.
Limit Even More, may be able to see hardly any content that could be offensive.
The second option "Limit" is a default setting for all users under 18 years.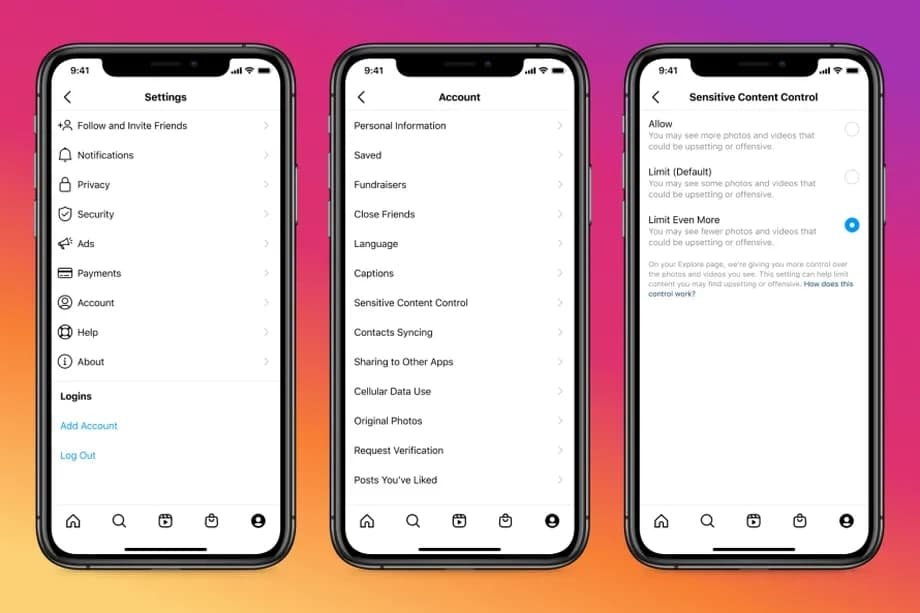 No clarity about the amount of content shown
However, Facebook did not give any answer to the comment on how much difference these settings will make to the amount of sensitive content that's shown to the Instagram user. The setting "Limit Even More" doesn't say that you won't be able to see any type of potentially sensitive content, it just means that you may see fewer posts that could be upsetting.
All these declarations come when many social networking sites, especially photo and video sharing platforms are troubled to figure out how to deal with the sensitive content that may be engaging for some but upsetting to other users.
This new feature of Instagram doesn't make a drastic change for the Explore page, but it gives users a bit more control over what they see on it.