HPC Systems- New Workstation
A workstation maker from Japan, HPC Systems, came up with an announcement that its new workstation is powered by AMD's EPYC processor with up to 64 cores as well as also includes two graphics cards Nvidia GeForce RTX 3080/3090. The primary target audience is the AI developers for which the PAW-300 machine is designed. But once Nvidia releases Studio drivers for its latest GPUs, it can certainly be used for other applications, such as digital content creation.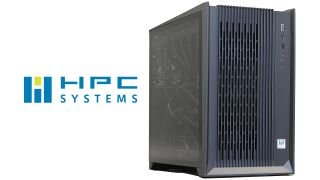 CPU Insights
One of the most powerful workstations available today is certainly the HPC PAW-300. In its maximum configuration, the system can be accompanied by up to 512 GB of DDR4-3200 ECC memory and equipped with AMD's EPYC 7002-series CPU with up to 64 cores. To support the NVLink interface for multi-GPU setups, the graphics department includes one or two three-wide GeForce RTX 3090 graphics cards that or GeForce RTX 3080 boards that do not feature NVLink. Based on an image provided by HPC, closed-loop liquid cooling is used by the PAW-300 systems for all of its compute components. As for storage, the computer has a U.2 port for a workstation-grade drive and one M.2 slot for an SSD.
Ports and Remote Management
The HPC PAW-300 has two 10 GbE connectors controlled by Intel's X550-AT2 which have rather fats connectivity capabilities. It also includes four USB 3.1 Gen 2 (two Type-A and two Type-C) as well as two USB 3.0 Type-A ports, a COM port, and audio jacks). For remote management, the system also comes equipped with Aspeed's AST2500 BMC (along with an RJ45 IPMI and a D-Sub connector.
When to Open for Sales?
HPC will start sales in late October of its PAW-300 workstations. However the pricing has not been announced, but if we evaluate, a 64-core AMD EPYC 7742 processor and two Nvidia GeForce RTX 3090 will approximately cost around $7770, obviously beefy configurations will cost a lot. Initially, the default model featuring a 16-core AMD EPYC 7302P ($919), two Nvidia GeForce RTX 3080 ($1400), and 64 GB of memory will be priced more democratically.