Nvidia might have just unveiled its RTX 3080 successor to the RTX 2080, but the company was already preparing for a surprise giant GPU: the RTX 3090. Whereas the RTX 3080 ships 10GB of GDDR6X memory, the RTX 3090 ships GDDR6X memory with a whopping 24 GB of memory. Nvidia is promising that the RTX 3090 will be able to play 60fps at 8K resolutions. This latest flagship card is more like the Titan series of Nvidia and will ship at $1,499 on September 24th.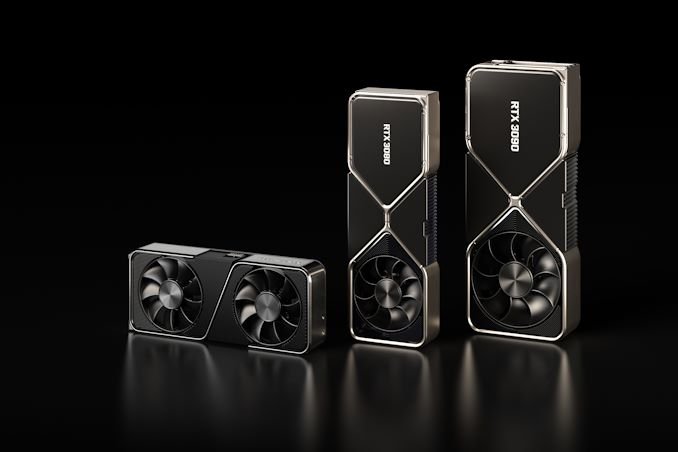 The RTX 3090 is based on the architecture of Nvidia's Ampere GPU which promises some impressive performance gains for PC gaming and ray tracing. Nvidia claims that the RTX 3090 is the "first 8K Gaming GPU in the world," with 8K HDR ShadowPlay support, HDMI 2.1, and much more. Nvidia uses 10,496 CUDA cores on the RTX 3090, along with a 1.70GHz boost clock and 24 GB GDDR6X memory.
Nvidia describes the RTX 3090 as the "Big Ferocious GPU" (BFGPU). The card will fill three slots and have a silencer that will make it 10 times quieter than the current Titan RTX graphics card. Nvidia says the RTX 3090 will also be up to 50% faster than the Titan RTX, and a 750-watt power supply is required. It is estimated the card itself will use about 350 watts of power.
While the RTX 3090 promises big strength, it's also huge in physical dimensions. The length of the card is 313 mm, compared to 285 mm for the RTX 3080. It also occupies three slots, compared to the more common two, meaning PC builders would need to decide which type of case to slot this into.
Nvidia only just revealed this card alongside the RTX 3080, so we are waiting to hear exactly what kind of performance we can expect to see with and without ray tracing in regular games. Given the big promises of 8K gaming, this might be the card we've been waiting for to drive 4K gaming to higher frame rates and more reliable performance.