The number of discrete GPU developers decreased to two by the end of the 2000s as a result of the competition between ATI Technologies (now part of AMD) and Nvidia.
In 2017, Intel announced its return to the stand-alone graphics card market, and it looks like Apple will soon be selling internally-developed high-performance desktop graphics as well.
But surprisingly, there's another player ready to join the game — Zhaoxin, a Chinese CPU designer.
What is Zhaoxin
Zhaoxin is best known for its CPUs, such as the KaiXin CPU, designed entirely in China. The company is backed by Chinese government-controlled interests, with state-owned Shanghai SASAC owning 80 percent of the company, while VIA, which licensed x86, owns 20 percent of the company.
Discrete GPU
China-based Zhaoxin is best known for its home-grown x86 processors, but according to cnTechPost 's article, the company recently introduced a new low-cost 70W discrete GPU in a video posted on its newly redesigned website. The video has since been removed, but the website has taken a snapshot of the company's roadmap detailing the latest stand-alone 70W GPU that will be fabbed using TSMC 's 28 nm method.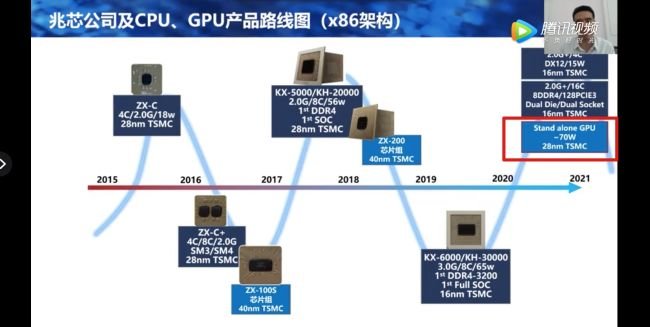 Due to its release at the end of 2020 or 2021, the GPU is expected to support the DirectX 11.1 or DirectX 12-level feature set, but the company does not elaborate. The chip will also have a TDP of up to 70 W, which is too large for laptops, but decent enough for small size desktops.
Given the process technology and the 70-W TDP of the upcoming GPU, it is unlikely that Zhaoxin 's stand-alone graphics processor would be able to compete against AMD and Nvidia on the high-end graphics card market.
Meanwhile, there are markets outside gaming that Zhaoxin might want to target with its discrete GPU, like high-performance computing.
If Zhaoxin will indeed migrate to the gaming industry, one of the obstacles that the company would likely face will be GPU-related patents. AMD and Nvidia hold large graphics processing IP portfolios, and in recent years both companies have sought to monetize their patents by licensing them to different parties, including those who buy graphics technology from IP developers such as Arm.