Microsoft will end its support for Windows 10 Home, Pro, Pro Education, Pro for Workstations on October 14th, 2025. It will be a little more than ten years since the operating system was initially released. In an updated support lifecycle page for Windows 10, Microsoft announced the OS's retirement date. According to Thurrott, this is the first time Microsoft has mentioned the end of Windows 10 support.
The page had previously stated when Microsoft will stop supporting particular versions of Windows 10. Microsoft began supporting Windows 10 Home and Pro on July 29, 2015, and the operating system's "retirement date" is now revealed. The end-of-support date for Windows 10 is just over ten years, which is identical to earlier versions of the operating system.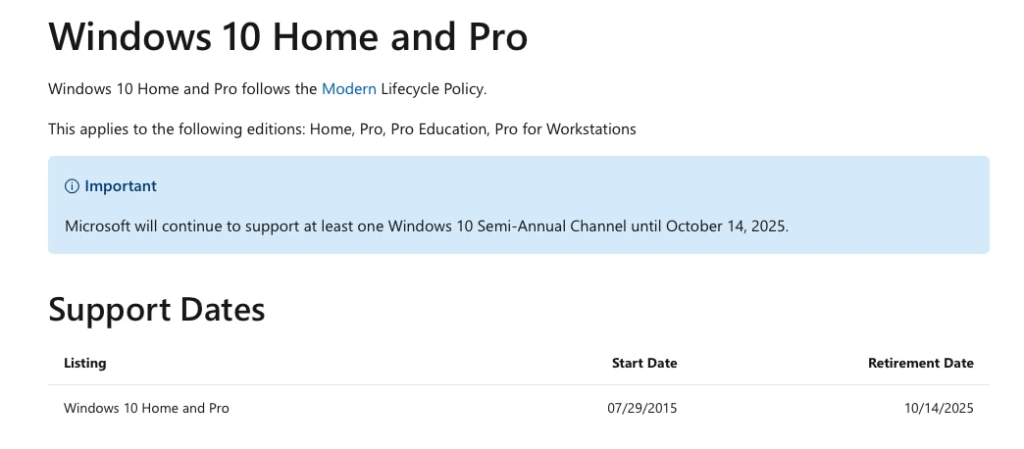 Microsoft has been teasing the release of Windows 11 for quite some time. Next week, Microsoft will host a special Windows event to unveil the OS's "next generation." The event begins at 11 a.m. ET, and the invite features a window that casts a shadow with a number 11 shape. For months, Microsoft executives have teased an announcement on the "next generation of Windows," with one even referring to it as a "new version of Windows" lately. In an 11-minute movie released last week, Microsoft teased Windows 11.
Microsoft is expected to release a new version of Windows with significant user interface changes and a revamped Windows Store. Microsoft has been working on a project called "Sun Valley" that it describes as a "sweeping visual regeneration of Windows."
Microsoft's launching of Windows 10 was remarkable in that it departed from its usual cadence of releasing a new version of the operating system every few years. Instead, Microsoft has transformed Windows into a service, with new features released twice a year. Although Microsoft referred to Windows 10 as "the last version of Windows," it has been nearly six years since its debut, and the company appears to be ready to move on to something new.