Colorful – a PC hardware manufacturer – has announced its flagship limited edition NVIDIA GeForce RTX 3090 iGAME KUDAN graphics card at its Bilibili Channel. The new RTX 3090 iGAME KUDAN is the most advanced and premium GPU offering from the company which has an insane design and massive cooling solutions. The company has announced in its Bilibili channel that they only going to produce only 1000 units of this graphic card, and each will be priced at a whopping 39999 RMB (around $4,999), making it the most expensive RTX 3090 GPU in the market.
Features of GeForce RTX 3090 iGAME KUDAN
GeForce RTX 3090 iGAME KUDAN graphic card features a hybrid cooling system which includes both air and liquid cooling system. The cooling system of RTX 3090 KUDAN has a triple-fan heatsink with 6mm high-performance heat pipes. Recently Colorful developed a new 'Storm Chaser' 90mm fans with fixed-rotating fan blades which are going to use in RTX 3090 KUDAN graphics card.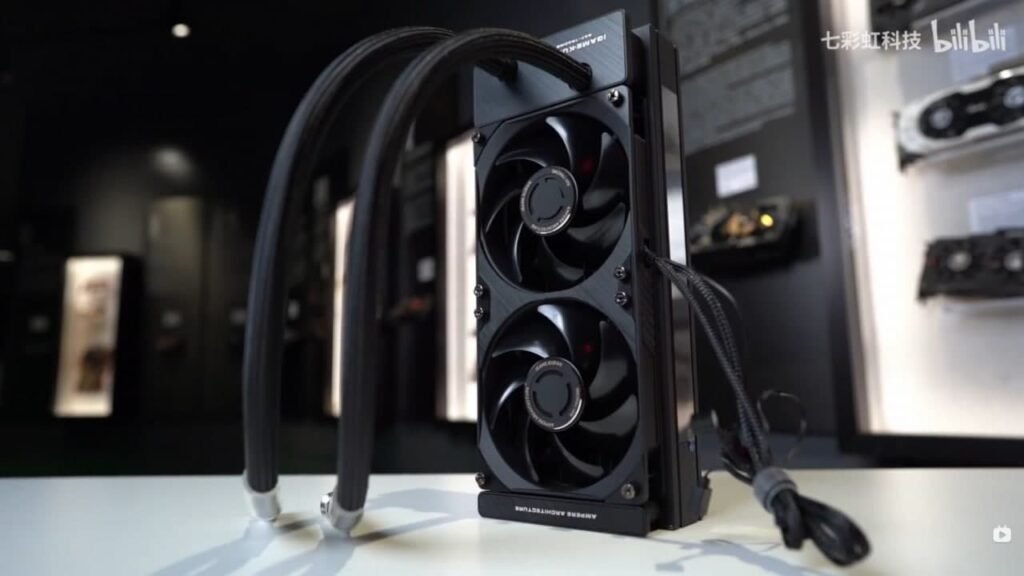 With all these new things heatsink is not lagging as it also coming up with the iGame Vaccum Copper Plate Technology which is used in the most advanced series of graphics cards. The cooling system of RTX 3090 KUDAN also coming with a nine-stage water block using a Breathe-Gill Technology and a 240mm radiator. 
The RTX 3090 iGAME KUDAN also features 10,496 CUDA cores with 24GB of GDDR6X which runs at a clock speed of 1395/1695 MHz. For extreme performance, the clock speed is pushed to 1860 MHz. To draw maximum (500w) power of graphic card it is using 8-pin PCIe power connector. All these jaw-dropping specs make GeForce RTX 3090 iGAME KUDAN – the most powerful and the most expensive GeForce RTX 3090 graphics card available in the market.
Design of GeForce RTX 3090 iGAME KUDAN
The design of RTX 3090 iGAME KUDAN is somewhat similar to previous KUDAN series like aluminum shroud with black, silver, and gold aesthetics but with unique gears for steampunk. The sides of the card are mounted with an LED display similar to the Vulcan-X series from Colorful but with refined changes. For all this design colorful use Swiss-made high-quality fittings design made by Staubli. This design allows rotating at 360 degrees for easy installation and troubleshooting.
Through all this, we can say that Colorful coming with a limited edition iGAME GeForce RTX 3090 KUDAN as they only producing 1000 units, each priced at a whopping 39999 RMB (around $4,999). The company also included accessories with this graphic card like a screwdriver, KUDAN keycaps, and a cardholder. This whole pack of graphic cards will be packed in a luxurious and durable suitcase.
I hope you like this information and stay tuned with us to get more information like this!