RNA is Ribonucleic Acid: a class of single-stranded molecules. It helps in coding and decoding and also regulates and expresses the genes.
We are studying RNA for a while and recently Julius Lucks, an associate professor of chemical and biological engineering at Northwestern University found something mesmerizing. This was never seen before in molecular cells. When he and his colleagues were studying the formation of RNA by generating high definition videos by computers using experimental data and algorithms.
Their goal was to understand the basic cell biology and to spectate how RNA forms all this will be pretty helpful to find cures to RNA related diseases. To study this Julius's team used Signal Recognition Particles in short SNP (RNA). SNP serves fundamental functions in many cells and it's found in every kingdom of life and it's in existence since ancient times.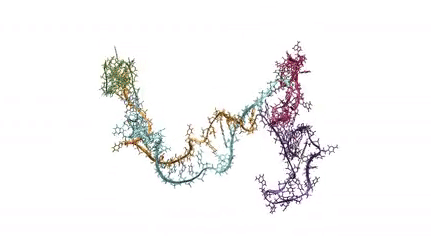 To spectate further team paused this construction by adding chemicals then the team added more nucleotides and continued to record again. In these videos, the team glanced at how RNA got entangled in complex knots, tied molecule is of no use. SNP's signature form is like a hairpin, so to achieve its original form new nucleotides join in and displace the one causing entanglement.
This study will help us to find how cells function, and how proteins form. This study will also help to address many RNA related diseases e.g. COVID-19.
These speculations also arise new questions that whether RNA can disentangle mostly or whether sometimes it needs some helper protein it's possible because some proteins called "RNA-Chaperones" help molecules to mold into their final form. Latter is possible but still have to speculate.