Update: SamMoblie is now reporting that Samsung Galaxy Z Fold 3, which is slated to be launched in August this year along with Galaxy Z Flip 3, is going to feature an under-display selfie camera with "40% higher light transmittance when compared to under-display cameras on existing smartphones." Meaning that the camera can absorb more light, leading to relatively brighter images and videos with less noise. Along with this site reports that both Galaxy Z Fold 3 and Galaxy Z Flip 3 will be up to 20% cheaper than their predecessors.
Original Article: There's an explanation: physical buttons have remained on smartphones and other wearables for so long. Capacitive sensors work, but they aren't as intuitive or stable as a regular button, particularly on sporty wearables where rain and sweat can interfere with use.
But you may think that a recent patent indicating that Samsung intends to ditch physical buttons on a foldable device is bad news. However, after inspecting the patent discovered by LetsGoDigital, it makes complete sense for the Samsung Galaxy Z Fold 3's special form factor.
The advantage arises when the phone is closed and the two sides of the unit meet. This causes the two halves of each capacitive field to converge into a wider button, which is superior to the current design, which requires your thumb to latch on to a button half the thickness of the frame.
Capacitive sensors not only allow for lighter devices with bigger and smaller keys, but they also allow for new ways of controlling things. A volume rocker, for example, might be replaced by a volume roller, or pressing the device could enable a certain feature.
Although this logically means there are redundant buttons on both sides of the unit when in tablet mode, Samsung could easily disable one or both sides when unfolded, making it a remarkably flexible solution.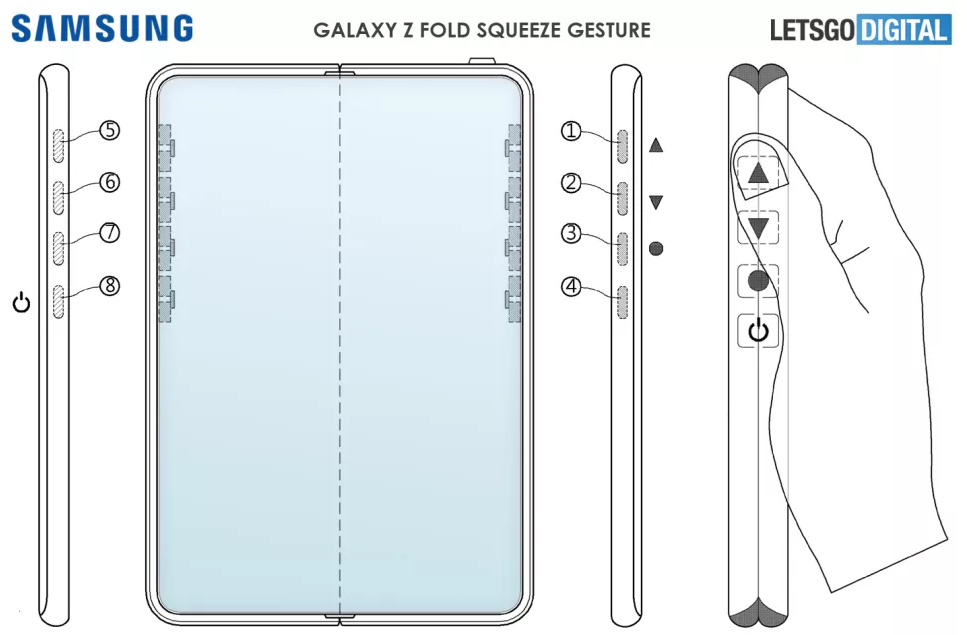 Of course, the patent does not specify which phone it is intended for, or whether it will ever be used in a commercial product at all. The patent's title is "foldable electronic device," and it includes several of Samsung's future products, including not only the Galaxy Z Fold 3 and Z Flip 3, but also a rumored folding tablet and anything that opens like a scroll. The images do appear to be in the Z Fold line, but if they may not appear in the third generation, they will appear in the fourth generation in 2022.
The Galaxy Z Fold 3 is expected to be released this summer, and stills from an official-looking video seem to highlight the features Samsung will be pushing, such as S Pen support and the company's first under-screen selfie camera. However, it is unlikely to be affordable, with previous generations of the Galaxy Z Fold retailing for $1,980 and $1,999, respectively.