Dreams come True
The Orbital Assembly Corporation, a space construction corporation led by NASA veterans, said today, June 24, that their technique for building the world's first space hotel has been successfully proven.
The presentation took place during the formal inauguration of the company's Fontana, California facility, which will act as its primary headquarters as it strives to make luxury space vacations a reality by 2030.
Semi-autonomous robots create large-scale space structures
Orbital Assembly, which bills itself as the "first large-scale space construction firm," is working on semi-autonomous robot builders that will be dispatched to space to create large-scale structures like its proposed Earth-orbiting space hotel.
The Voyager Space Station (VSS), a circular luxury space hotel with a diameter of 650 feet (200 meters) and simulated gravity equal to that found on the Moon, is the firm's objective.
Demonstrator Structural Truss Assembly Robot (DSTAR) fabricator is one of the technologies that will let the firm create massive structures in space.
Tim Alatorre, Chief Operating Officer and Vice President of Habitation remarked in a news release, "Today we reached our milestone in certifying the Demonstrator Structural Truss Assembly Robot (DSTAR) fabrictor."
"Everyone was ecstatic to watch the DSTAR construct the six-ton truss framework and grow to the length of a football field as it will in space," Alatorre added. "We are on target to meet our 2023 launch goal for our maiden mission."
The company said on Twitter that its showcase went off without a hitch and that it will release additional information about the technology on display at the event in the near future.
Changing the nature of space travel
The Voyager Space Hotel is designed to provide visitors with luxury and comfort, one of which is artificial gravity. The huge space structure will rotate gently to imitate gravity.
After completing the DSTAR fabrication demonstration, Orbital Assembly plans to send the Prototype Structural Truss Assembly Robot ('PSTAR') into low Earth orbit in 2023 as part of a larger mission.
The 'PSTAR' will construct a ring out of 52 meters (156 feet) of truss that will serve as a prototype for the Voyage space hotel.
Four onboard propulsion modules will employ thrust to rotate the ring within that circle. If all goes according to plan on that trip, Orbital Assembly will have exhibited lunar levels of artificial gravity in space for the first time.
It will be the first large-scale demonstration of rotation for artificial gravity in space, a technique that has also been proposed for a massive off-world colony circling the dwarf planet Ceres in the future.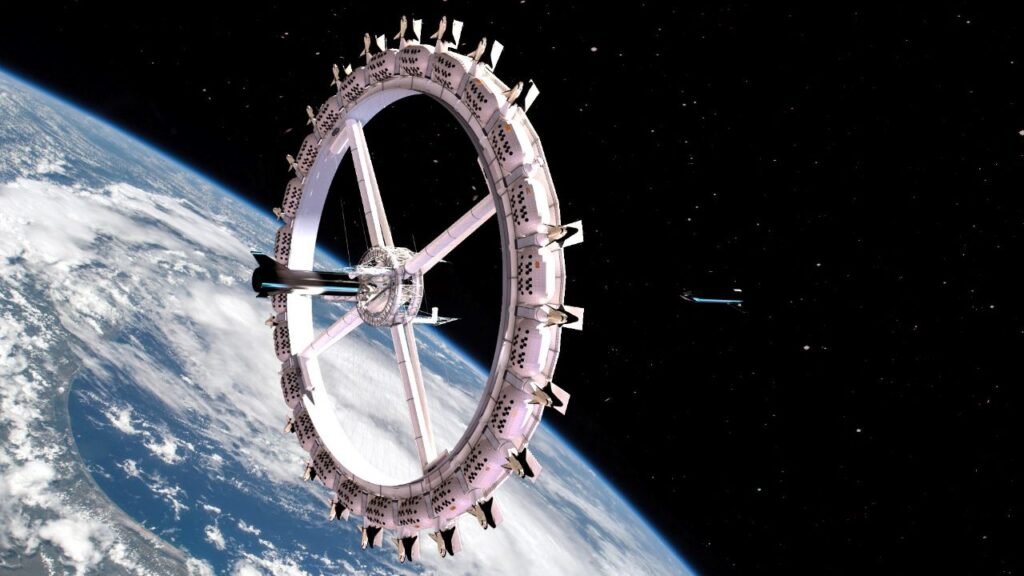 By 2027, Orbital Assembly intends to have the Voyager Space Hotel up and running. Guests will have access to a variety of amenities at that time, including health spas, gyms, themed eateries, Earth-viewing lounges, and bars, according to the firm.
The space hotel will be able to accommodate up to 400 visitors at a time, according to the firm, and it will also welcome foreign space organizations conducting artificial gravity research.
Orbital Assembly hasn't said how much a spacecation would cost, but it's safe to assume it won't be cheap.
Sir Richard Branson's Virgin Galactic, for example, intends to make space "more accessible" by charging about $250,000 for a single journey into space on its VSS Unity spacecraft.
Because space travel is far from risk-free, envious earthlings might claim that societies wealthiest will serve as guinea pigs for a day when space vacations will hopefully become cheaper — albeit that moment maybe centuries away.