Windows 11 Revealed
Today, Microsoft officially confirms the name of the next Windows release: Windows 11. Microsoft's next operating system is now official, following months of teases, hints of the number 11, and a massive Windows 11 leak. A streamlining of the Windows user interface, a new Windows store, and performance and multitasking enhancements are all major features of Windows 11. And for the first time, Windows will have support for running Android apps.
Key Attraction
The first thing you'll notice in Windows 11 is the redesigned Start menu and updated Start button, both of which are concentrated on the taskbar. This UI is very similar to what we first saw in Windows 10X, a Microsoft project that was originally intended for dual-screen devices but was shelved. A lot of the UI development that went into Windows 10X is carried over to Windows 11.
The new Start menu does away with the Live Tiles that were first introduced with Windows 8, favouring a more traditional launcher similar to that found in Chrome OS or Android. Apps, recent documents, and a distinct search interface are all available. MacOS and Chrome OS are certainly influencing the centred look, and Windows 11 also features the rounded corners we've seen on Android and iOS.
"The team has laboured over every detail," adds Windows CEO Panos Panay. Updated dark and light modes will be included in Windows 11, and they will look a lot better than what we have now in Windows.
Snap Grouping
Snap Layouts, as Microsoft refers to them, allow you to easily snap apps into the many modes that Windows 11 supports. Thanks to a feature called Snap Groups, this new version of Windows will also remember where your apps are located.
It appears to be a practical solution to handle numerous monitors and ensure that apps open on the correct screen at all times. This is especially useful if you're working on a laptop connected to a monitor or a classic desktop computer with numerous monitors.
Update in Background
Windows 11 places a strong emphasis on performance. Because Windows updates are now done in the background, they are 40 percent smaller and more efficient. Hopefully, this means Windows won't interrupt you when you're working.
Microsoft Teams is also being integrated directly into Windows 11 for both consumers and businesses. Teams is a feature that allows users to call friends, family, or coworkers directly from the taskbar. It's evident that this is a significant departure from Skype, which came pre-installed with Windows 10, and there's even a global mute button in the system tray for easy microphone muting across all apps.
Widgets and Gestures
Windows Widgets and touch gestures play an important role in Windows 11. Widgets is an AI-powered tailored feed that builds on the widgets that Microsoft introduced in Windows 10. It appears on the left-hand side of the new Windows, and it can be made full-screen. A news feed, weather, and maps are among the built-in widgets.
Surprisingly, one of these widgets allows you to tip local authors right from within Windows 11.
Microsoft is also working to improve the motions and touch targets available on tablets. Instead of switching to tablet mode, Windows 11 adapts to allow you to easily touch the operating system.
Improvements in inking and voice typing are also included. Latest Windows will also allow haptic feedback with some pens. This could indicate that a lot of new gear will be released to support the stylus improvements.
Xbox with Windows 11
Xbox is a significant part of Microsoft, and we got to hear about PC gaming with Windows 11 from Xbox executive Sarah Bond. Auto HDR, which is available on Xbox Series X|S, will be included in latest version of Windows. As long as you have a compatible HDR monitor, enabling Auto HDR will bring high dynamic range (HDR) to a significant number of DirectX 11 and DirectX 12 games.
Microsoft also promises that new Windows will be faster and more responsive. DirectStorage, a major new feature from the Xbox Series X|S, will be included in Windows 11. To improve game load times on Windows, DirectStorage will require the latest NVMe SSDs, and game developers will need to use this technology to improve load times even further.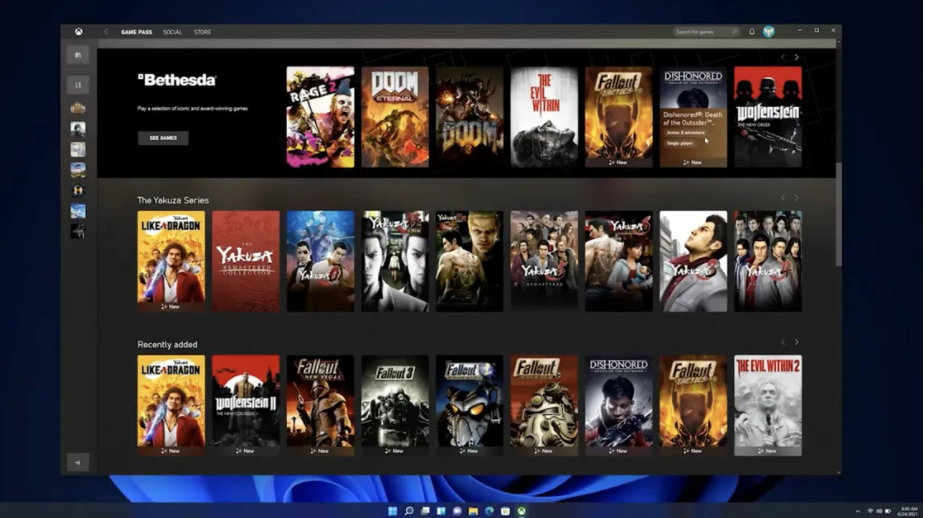 Thanks to a new Xbox software that the business has been testing for months, Xbox Game Pass will also be incorporated into Windows 11. This Xbox app also offers xCloud integration, allowing you to stream games from Microsoft's cloud.
New App Store
Finally, the new store and support for Android apps on Windows are two of the most important features of Windows 11. The Microsoft Store has been modified to support a variety of programmes that were previously unavailable in the Windows app store. This includes Adobe Creative Suite programmes as well as Android apps like TikTok and Instagram.
Microsoft won't take a share if developers use their own "commerce engines," and they can even use their own payment systems if they wish. Microsoft CEO Satya Nadella says, "Windows has always advocated for creative sovereignty."
The most significant development is that Windows 11 will support Android apps. To make this a reality, Microsoft has worked with Amazon and Intel, and Windows 11 will use Intel Bridge technology to accomplish it. Microsoft displayed TikTok and other Android apps coexisting with Windows apps, and the firm plans to reveal more details "in the coming months."
Release by October
Windows 11 does not yet have a release date, but Microsoft has stated that it would be available as a free update to Windows 10 users this holiday season. We anticipate the release of Windows 11 in October, along with new hardware that supports the operating system.
Till then you can check the minimum Windows 11 system requirements confirmed by Microsoft:
Processor – 1 gigahertz (GHz) or faster with 2 or more cores on a compatible 64-bit processor or System on a Chip (SoC)
64 GB or larger storage device
4GB RAM or greater
System firmware – UEFI, Secure Boot capable
Trusted Platform Module (TPM) version 2.0
9-inch or greater monitor, 8 bits per color channel
High definition (720p)
DirectX 12 compatible graphics / WDDM 2.x
Microsoft account and internet connectivity required for setup
For more detailed requirements see this document
For more information about Windows 11 visit Microsoft's official website. And if you want to know how things will work for Insiders then visit this blog post by Microsoft