Microsoft released the new Windows 11 back in June with some eye-popping features and UI changes, which many people are interested to get their hands on, months before the official release date. And as the company has limited the availability of the pre-release version of the latest Windows (to the Dev channel of the Windows Insider Program), many people are trying other (unfair) methods to obtain unofficial Windows 11 installers or ISOs files.
But unfortunately, these unofficial Windows 11 installers are not only fake but also being used by some groups or people to spread malware or potentially harmful software.
This distribution of fake Windows 11 installers leads to people downloading a weird installer and then clicking through the terms and conditions without reading them to initiate the installation, bringing all kinds of unwanted and harmful software to your device.
As per the report of Kaspersky – a security firm, the file "86307_windows 11 builds 21996.1 x64 + activator.exe" is available on the internet, having a size of 1.75GB and the name indicates that it contains Windows 11 build 21996.1 – which in reality is an outdated build that leaked before Microsoft's official unveiling of the OS – which is using "one DLL file that contains a lot of useless information" to create the illusion of original Windows installation tool.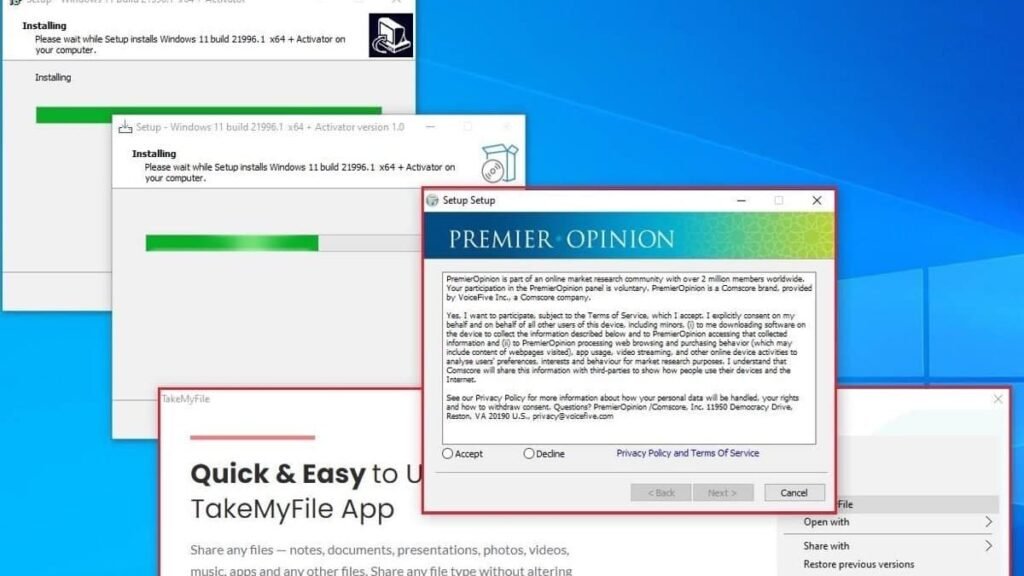 When users start the installation process, it downloads and runs other executable programs. It comes with a license agreement that states that "it would also install some sponsored software" and when people accept it without reading, malicious software gets installed on their device.
Kaspersky claims that this software can be "very wide-ranging—from relatively harmless adware, which our solutions classify as not-a-virus, to full-fledged Trojans, password stealers, exploits, and other nasty stuff," that can steal your credentials.
The firm has "have already seen and defeated several hundred infection attempts that used similar Windows 11–related schemes." The security firm has also suggested that official methods such as joining the Windows Insider Program should be used to install builds and the OS.