Can you believe if I say that there is a fully secure phone and believe in free speech or privacy first? I know it's quite difficult to believe. Because in this modern era, we are globally interconnected with each other it is impossible to keep your device completely secure.
Freedom Phone – An Epic Fail
This week, Erik Finman, a self-proclaimed "Bitcoin millionaire" announced Freedom Phone that will fight Big Tech for free speech. This claim by Erik instantly grabbed the attention of many skeptics.
According to Erik, Freedom of Speech is their priority, and nowadays Big techs are violating our privacy and censoring our speech very easily. That's why they built their own App Store that is completely uncensored. If any app that you like is banned from mainstream app stores, you can still download it because they don't ban apps period.
But even before coming into the market, this phone is standing in the dock of questions. Is the phone really what the Finman claims. Let's see.
First, let us understand the basic idea behind the manufacturing of this phone. In the launch, Erik majorly gives stress to the incident, in the 2020 US President Election the Twitter permanently suspended the former US President Donald Trump's account in breach of the policy of glorifying violence. Moreover, Google pulled the Parler app from the Play Store for not moderating user-generated content.
Such incidents make right-wing people believe that the Big Tech companies are biased against them. That's what Erik also mentioned in his speech that inspires him to make Freedom Phone. But from what we see it only appears to be a marketing strategy that claims that Big Tech is against right-wing people in the US.
Lack of specifications drew skeptics attention
The official Freedom Phone website is not very comprehensive. It says that the phone works with all national and international carriers in the US. It comes with preloaded apps and websites. The phone runs on an operating system named FreedomOS.
Finman confirmed that the Phone was made by Umidigi, a Chinese smartphone brand based in Shenzhen in an interview with The Daily Beast. Indeed the phone appears to be the same as the Umidigi A9 Pro and costs $179.99 on Amazon. So, we can't say whether the Freedom Phone uses the same hardware as the Umidigi A9 Pro or not. As we have no detail regarding it.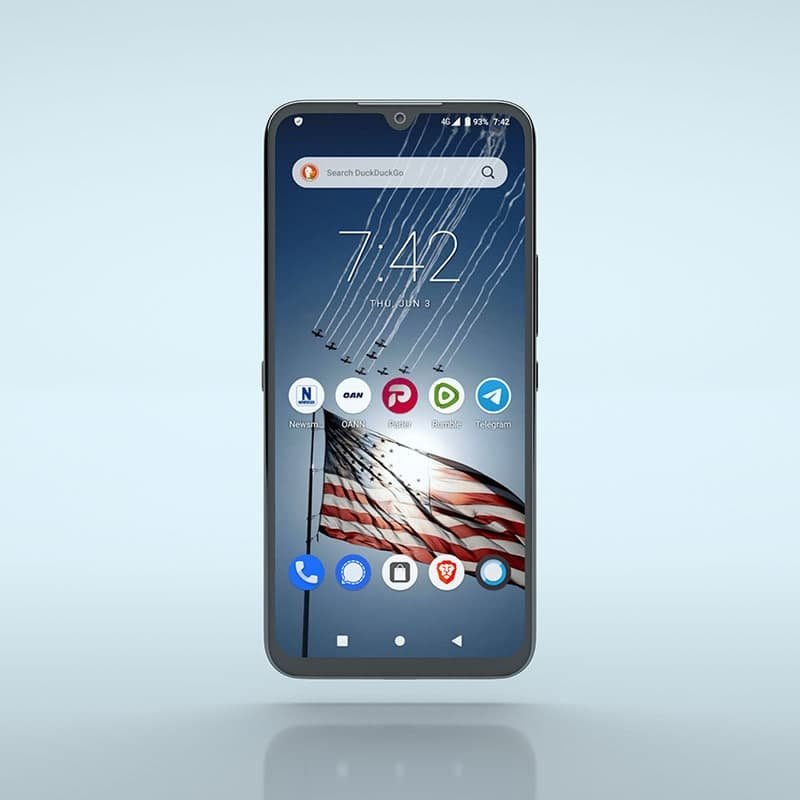 To ensure security, the company uses the privacy guard 'Trust'. It will warn you whenever an app or a website is tracking you and gives you the option to stop it.
But on the Freedom Phone's website 'Trust' logo is looking quite suspicious. It is the same as the one used in LinkageOS Trust Functionality. Aso, by looking at the handy video found by ArsTechnica's Ron Amadeo, it is obvious that the phone works well with LineageOS.
Another hand-on video by Candace Owens this uncensored app store is indeed a renamed Aurora Store. Aurora Store, an open-source front-end for the Google Play Store. It signifies that all the applications of the "PatriApp Store" on Freedom Phone are probably Google Play-based. So, its content can't be controlled and guaranteed by the Finman company that it can't be censored.
Now, from all the information we have the Freedom Phone appears suspicious. It appears that it can't meet all the promises claimed by Finman. So, at $499 this phone is not worth buying. It is just an overpriced smartphone and is not free from anything.