After Microsoft has confirmed its Xbox Series X and Series S pricing and launch details earlier this week. Some leaks and rumors are now pointing that Microsoft might be planning to add a third next-gen console Xbox Series V to its Xbox Series X console family. According to rumors this new Xbox series V (codenamed as "Edinburgh") is going to be a mid-point between the two currently-announced versions.
Rumors pointing at Xbox Series V (codename Edinburgh)
These claims come from a Twitter user Idle Sloth, who shared an off-screen image showing the rumored version Series V between the Series X and Xbox Series S console. Sloth states that the Series V would fit between the Series S and Series X in terms of power and price. In other words, more powerful and expensive than the Xbox Series S, but cheaper and less powerful than the Xbox Series X. The attached image also suggests that the Xbox Series V would be all-digital, as there's no sign of the disk drive. And this new version could be the Xbox's answer to Sony's all digital PS5.
However, the Series X and Series S codenamed as Anaconda and Lockhart were two of three projects leaked in the Xbox One's operating system back in July. Which contains a third codename, "Edinburgh". And that leak from July, adds weight to the Xbox Series V rumors. The current two potential frontrunners are a more powerful all-digital console and something pertaining to cloud service Project xCloud. Whether the Series V is linked to either xCloud or a new console, we probably won't find out more this side of the Xbox Series X release date.
Possible Specs and Price of Xbox Series V
As tweeted Xbox series V (codenamed "Xbox Edinburgh") is going to be a mid-point between the two currently-announced versions. Which could have a 12-14GB of RAM with an AMD RDNA 2 GPU running at 8-10 TFLOPS who knows. Well with all this one thing seems almost a certainty that it will cost around $399, exactly in between the other two devices.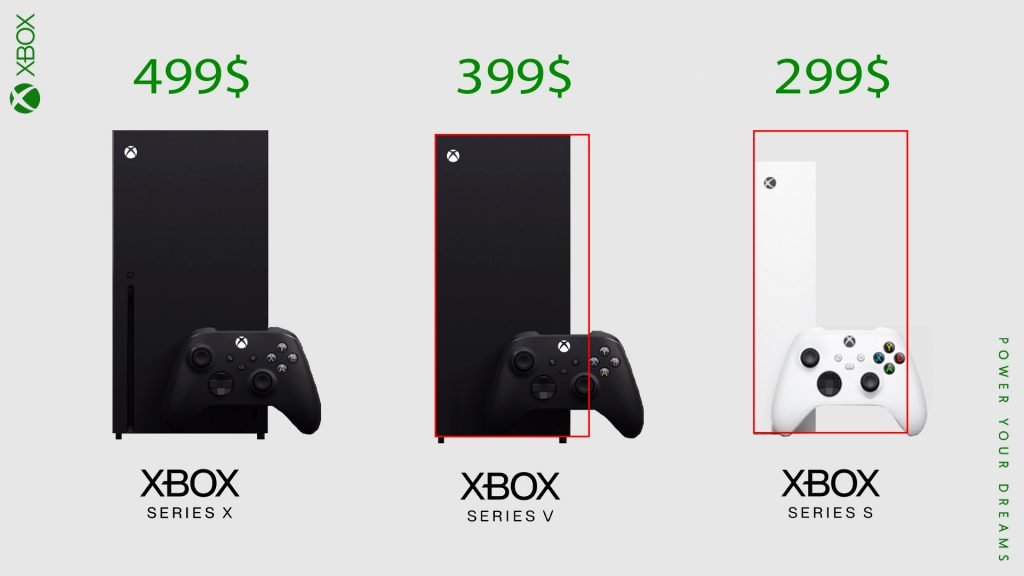 Surely, people who want to shell out money will go for the power of Xbox Series X, while those looking to save money will likely take the $200 savings of Xbox Series S. And if rumors about Xbox Series V came true this "more powerful Xbox Series S but less powerful Xbox Series X," can become just the thing for the Xbox fans.
Microsoft has not commented on this leak, as they have a pretty strict "no comment" policy when it comes to leaks and rumors. But, until the rumor get confirmed about Xbox Series V, we can just wait and hope for the best to happen.