Adobe Photoshop Update
Adobe has just dropped a huge Photoshop update, featuring a range of AI-powered features such as Neural Filters, Refine Hair selection, Sky Replacement, and more. It's an Adobe Sensei bonanza that ought to have the Skylum folks feeling both flattered and terrified.
On this one, Adobe is not mincing words.." After this update, the company calls Photoshop" the most advanced AI application in the world. "And you know, they have a point, since most of the major enhancements and changes introduced to Photoshop today are driven by the machine learning technologies of Adobe's Sensei AI.
Neural Filters in Photoshop
Adobe calls the largest (and least baked) update of it all "a huge breakthrough in AI-powered innovation." Neural Filters. These AI-powered filters are hidden away within their own workspace, and if you have been paying attention to some of the developments in machine learning-based photo editing in the past few years, they should look pretty familiar.
At first, there will be two "featured" filters and 6 "beta" filters, including Skin Smoothing, Style Transfer, JPEG artefact colourization and removal options, and a Smart Portrait filter that allows you artistic control over many parameters, including facial features, the direction of gaze, expression, and even the subject's age. You can also subtly adjust the lighting on your subject if you feel so inclined.
You can see some of these filters in action in the video below:
Sky Replacement
Next up is a teaser feature from Adobe earlier this year: Sky Replacement. Using this feature, you can either simply Auto Select the Sky by itself, or choose a new sky from the Adobe database using the built-in 'Sky Replacement' option.
Adobe Sensei does both the masking and blending, and "cutting-edge algorithms" are used to "harmonize the image's foreground with the sky" so that if you intend to make major changes, the lighting does not clash. The first version ships with a range of 25 "preset" skies, varying from subtle to (literally) beyond this planet.
Here are some before and after images showing the power of this new feature:
You can learn more about the Photoshop's Sky Replacement features here
Refine Hair and Object Aware Refine
The addition of two new tools in the Select and Mask workspace is a less "exciting" (but possibly much more practical) feature: Refine Hair and Object Aware Refine Mode.
Refine Hair is just as it sounds like: the button, now on the top right of the Select and Mask Toolbar, does the Refine Edge brushwork for you and tries to select the hair of your subject intelligently, even though they are standing in front of a busy background. The goal, Adobe says, is to enhance these features so much that in two clicks any user can be selected: Subject Select + Refine Hair.
The second update is the Object Aware Refine Mode, which is specially designed to distinguish fine details from identical backgrounds. The new Object Aware button helps you to brush over and pick fine details with a surprising amount of accuracy in a special Refine Edge mode.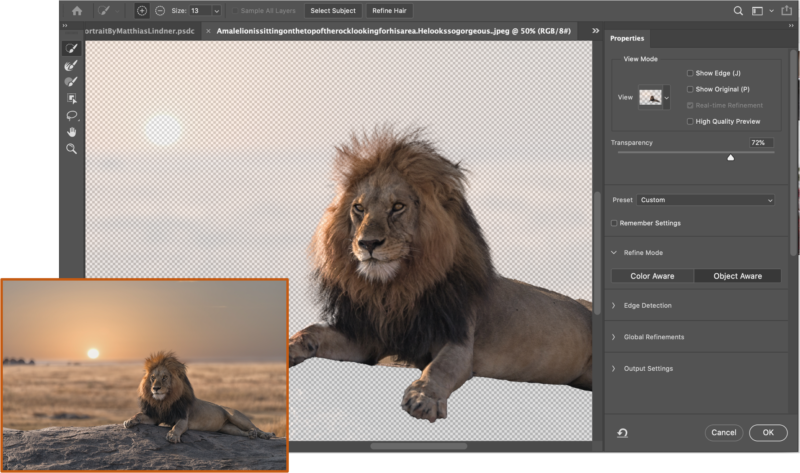 The lion above was chosen in just a few seconds, according to Adobe, first using Select Subject to get the general outline, and then the Object-Aware Refine Edge brush to select the lion's mane in "just a few strokes." One more effective tool In the Select and Mask toolbox.
Conclusion
The remaining updates such as Smart Object Reset, Live Shapes, and Pattern Preview will be more important to designers than to photographers, so here we will not go into depth about them, but on the Adobe blog, you will learn more about them.