Update: In a statement (mentioned below) to Tom's Hardware, AMD has stated that they will only be making a small amount of Radeon RX 6900 XT LC graphics cards and make them available to system integrators only (bad news for crypto miners).
"AMD will be making a limited number of Radeon RX 6900 XT liquid-cooled reference design graphics cards available to select system integrators. System integrators are a critical part of the gaming ecosystem and offering this model through their channels helps ensure that as many of these products as possible get into gamers' hands."
Original Article: AMD has finally unveiled its long-rumored Radeon RX 6900 XT LC (Liquid Cooled) Edition (via VideoCardz). It is an enhancement over the RX 6900 model in terms of faster clocks, faster memory, more power, and the fastest performance on any AMD Radeon graphics card. With all these AMD has added a hybrid cooling solution to the external radiator with a single fan. It will be soon available on the U.S, U.K, and Japanese retailer websites but the MSRP is not revealed yet.
Features of Radeon RX 6900 XT LC
The graphic card of Radeon 6900 XT is based on Navi 21 XT GPU but they have updated Radeon RX 6900 XT LC with the Navi 21 XTXH chips receive the high-end cooling system in both air and liquid forms from various manufacturers.
Radeon RX 6900 XT LC features the same 16GB of GDDR6 memory but with a boosted speed of 18Gbps from standard 16Gbps. There is an enhancement in boost and game clocks from 2250MHz/2015MHz to 2435MHz and 2250MHz. AMD has also included 80 Ray accelerators for ray-tracing enablement on the graphic cards. And graphic cards total board power TBP has been increased from 300 watts to 330 watts.
The Radeon RX 6900 XT LC graphic cards coming with a 128MB of infinity Cache on the GPU. This cache will help in boosting the bandwidth for higher performance in resolutions that may be beyond 1080p HD. 128 MB Infinity Cache boosts the bandwidth by 3.25x which ranges the bandwidth from 512GB/s to 1.664 TB/s in all the Navi GPU-based graphic cards. As bandwidth enhanced texture filtrate also boosted from 720 GT/ to 779.2 GT/s.
Radeon RX 6900 XT LC Design
The design of the Radeon RX 6900 XT LC is not different from the existing Radeon RX 6000 RDNA 2 series which has a silver and black color combination. The Radeon RX 6900 XT Liquid Cooled Edition uses two glossy aluminum plates with a large Radeon 'R' logo in middle. And as reported earlier, the card would offer a dual-slot design with a 120mm AIO radiator liquid cooling solution. The radiator would have an RGB accent LED on the side. The Radeon graphic card also referring PCB design with dual 8-pin power connectors.
Radeon RX 6900 XT Performance
The AMD Radeon RX 6900 XT Liquid Cooled graphics card with a single radiator fan leading to the best 4K gaming with ultra-high frame rates at max settings. It also offers noise and temperature benefits because of the liquid cooling design.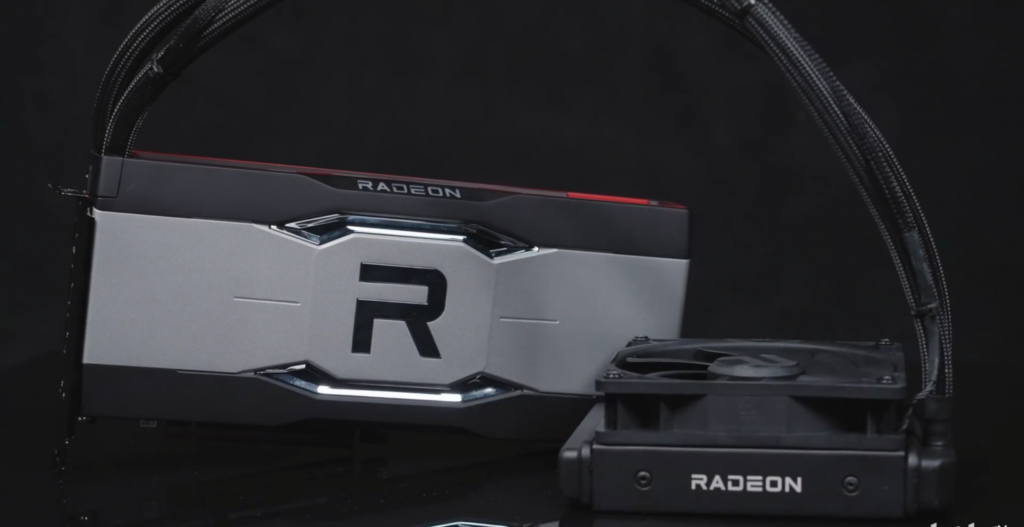 The U.S, U.K, and Japanese retailers have announced that AMD Radeon RX 6900 XT LC (Liquid Cooled) graphics card will be available soon on their websites. The prices are not revealed yet but it can be over $1,500 because of its premium design keeping in mind that AMD Radeon RX 6900 XT had a price tag of $999.
But for now, AMD only offering cards by system integrators such as MainGear, PCSpecalist, iBuyPower, and some from APAC regions.
I hope you like this information and stay tuned with us to get more information like this!