Call of Duty Warzone could be coming to mobile devices too. The company is searching for an Executive Producer for a forthcoming title named WZM, which is probably Warzone Mobile, according to a work listing on Activision's web site. The latest hire will be a member of the Mobile branch and will report to the VP, Mobile, currently Chris Plummer, of Activision.
The job description has obviously been filled out after publication. Reddit user u/RickAtwood did, however, manage to post a listing screenshot. The job description reads, "As executive producer, features in the Call of Duty series, you will own product design and user impressions in a new AAA smartphone FPS. In collaboration with numerous Activision studio locations around the world, This leader is a professional communicator and production consultant who can identify and extract essential elements.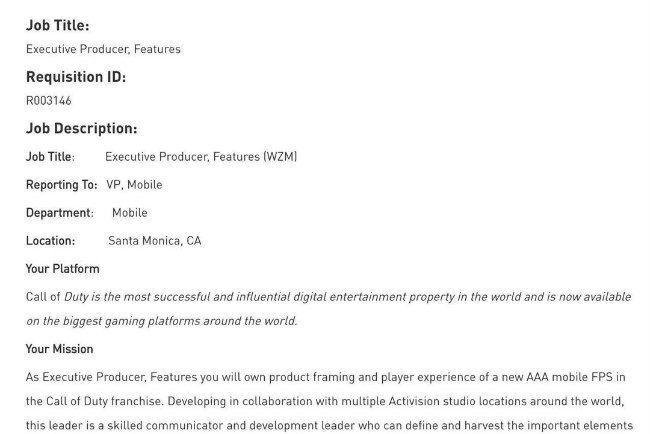 Apparently, the summary suggests that Activision is working on a new smartphone call of duty title. Given the success of Call of Duty Warzone, having the developer announce a version for mobile devices won't be that shocking. A recent tweet by consumer @codmINTEL states that Sledgehammer Games is creating a new Call of Duty app set for a launch in 2021. Do remember, that Call of Duty is an ongoing franchise published each year by a separate Activision company. So take the tweet with a pinch of salt.
If Activision does announce a new Call of Duty Warzone mobile title, of course, one might wonder what effect it would have on Call of Duty: Mobile. Warzone is a battle royale game and Call of Duty: a BR mode is built-in by the Smartphone itself. Looks like we just have to wait and see what Activision has for us in store.