Cyberpunk 2077's pirated copies are available on Amazon India for Rs. 4,999 and are also available at a discount price of Rs. 1,750. The listing is reportedly sold by a vendor called IGN Digitals, which has no affiliation with IGN (site has confirmed).
Currently, the listing is titled as "GM Cyberpunk 2077 PC Full Game, Digital Download (No DVD/CD/No GOG Code) Offline PC Game". It doesn't have any online activation code means that this is far from a genuine product.
Why you shouldn't be buying this pirated version of Cyberpunk 2077
Now the "GM" in the title suggests that this is not a final release version of CD Projekt's Cyberpunk 2077, but is a copy of the game's gold master version, meaning it could lack any post-launch support or patches.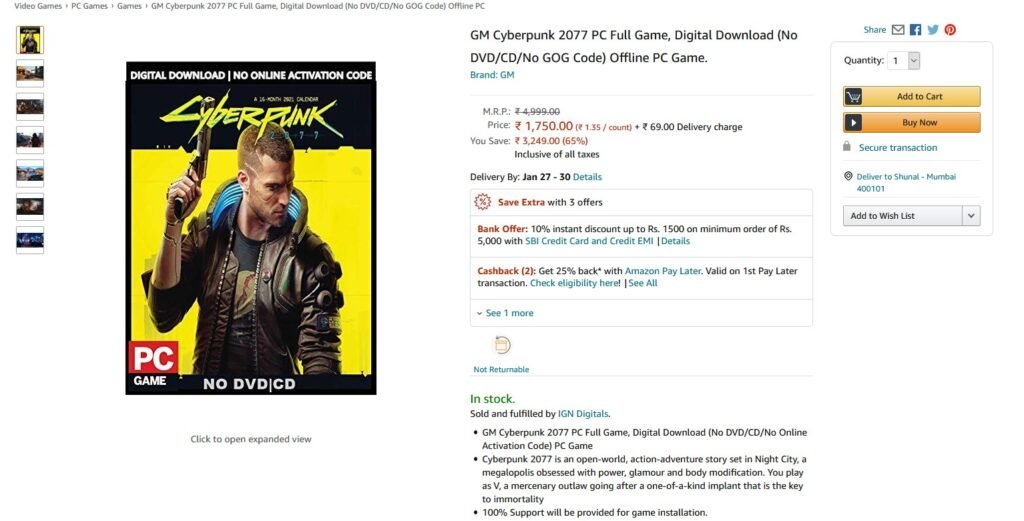 "Gold Master" version is the version game developers send to platform owners like Sony and Microsoft for certification. They then check it to make sure that the game won't accidentally break the console or set it on fire, and after that, the game is subsequently pressed on to discs for release. So, buying this pirated version of the game could be dangerous for your PC as the game had a number of bugs when it released and for which CD Projekt has launched many Hotfixes.
Cyberpunk 2077 is the only pirated game on sale right now, among other pirated games like GTA V, Watch Dogs 2, and Need For Speed Rivals.