On Friday, Google said that it has now trained Search to detect "rapidly evolving topics" or breaking news and to show people warnings about the search results related to them instead of showing what's immediately available on the web. Warning will be in the form of notice stating "it looks like these results are changing quickly," along with a subheading explaining that, "if this topic is new, it can sometimes take time for results to be added by reliable sources."
"While Google Search will always be there with the most useful results we can provide, sometimes the reliable information you're searching for just isn't online yet," the company explained in the blog post. "This can be particularly true for breaking news or emerging topics, when the information that's published first may not be the most reliable."
Google said that its system software will be deciding when the notice needs to be triggered. Google's public liaison for search, Danny Sulivan wrote in a blog post, "We'll now show a notice indicating that it may best to check back later when more information from a wider range of sources might be available."
Recode had earlier reported about the testing of this feature by Google. Moreover, this step is taken by Google because already tech giants, like Facebook, Twitter, and Google itself have faced major scrutiny for misinformation, extremism, and toxic content on its platforms. This criticism had become rigid as these tech giants have tried to combat the misconception about COVID­19 around the Globe.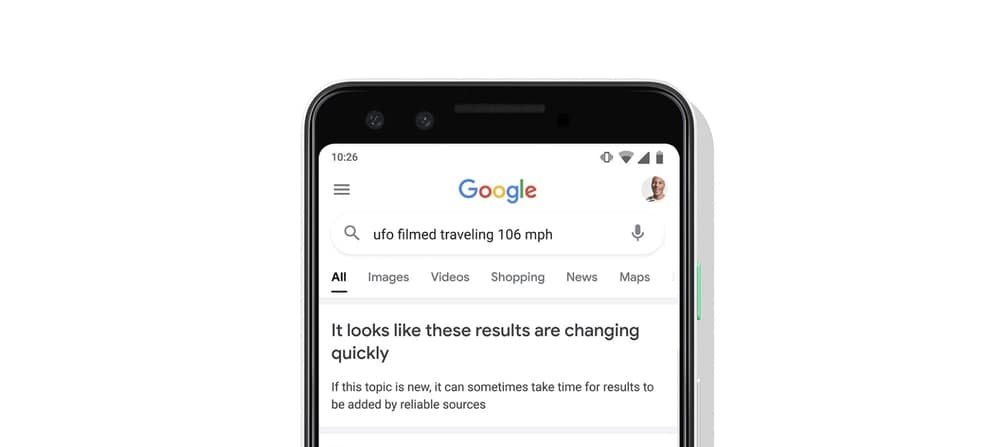 As shown in the example query about "ufo filmed traveling 106 mph" above. Google Search showed the notice about rapidly evolving topics and advised users to check back later. This gives us a sign that "Google is prioritizing accuracy rather than showing random information."
In the past few months, Google has tried to provide more information about its search results. In May, the company's I/O developer conference Google launched a new search label called "About this result" that provides users more information about search in the US.