"A once-in-a-lifetime coming-of-age that hurtles at 400km/h, love all play!!" – proposes the first visual of Asami Koseki's novel series inspired TV anime, Love All Play. This sports anime follows Ryō, a passionate badminton player, and his journey to becoming a top-tier athlete. The official website has announced NTV, YTV, and their affiliates as broadcasters for the television premiere in spring 2022 (via ANN).
"About 10 years ago, I encountered a very profound and fascinating sport called badminton, and the work I wrote that was fascinated by people who seriously faced it, this time, I got a new face of animation. This luck is a great joy for me as an anime fan, and I think it will be a great motivation for my future works.
I hope that the power of anime, which is also a representative of Japanese culture, will increase the number of badminton fans not only in Japan but around the world," Asami Koseki.
'Love All Play' novel series comprises 4 volumes by Asami Koseki written between 2011 and 2014 where the first volume centers on a middle school badminton player, Ryō Mizushima who strives to become a top athlete. However, training without a proper coach couldn't help bring his true potential out nevertheless, he manages to compete in the prefectural tournament thanks to his brute strength.
Then only he receives an invitation from Yokohama-Minato High School, a highly reputable school. Now surrounded by multiple idiosyncratic mates and under legendary coach Ebihara, Mizushima must take his high school team to the inter-high tournament.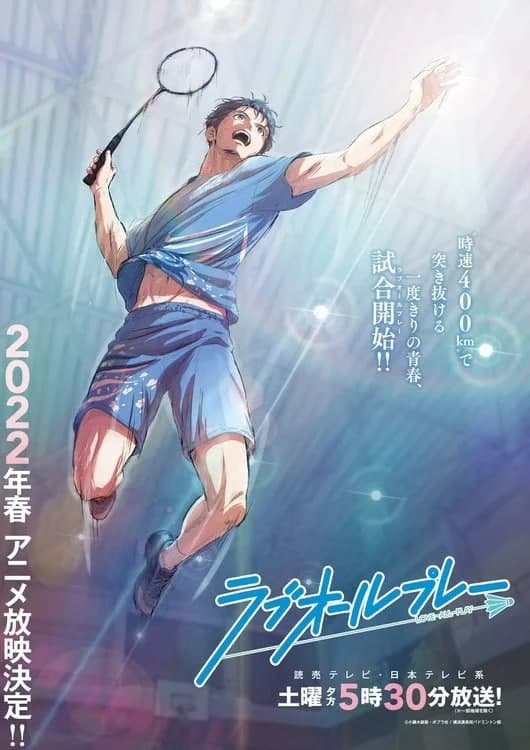 Nippon Animation is heading the animation production with Hiroshi Takeuchi (Peacemaker Kurogane: Belief storyboarder, Blade & Soul) as director at OLM. Miharu Hirami (Kodocha), Shingo Irie (Kuroko's Basketball), and Michiko Yokote ( Genshiken) are steering the writing with Tomoko Konparu (Uta no Prince-Sama – Maji Love 1000%, Nodame Cantabile) supervising and composing the scripts.
Character designer Riko Kaneda is designing the characters who have worked in Let's make a Mug Too and Yuki Hayashi (My Hero Academia, Welcome to the Ballroom, Backflip!!, Shaman King) is composing the music.