Elitemini HX90 with AMD Ryzen 9 5900HX
Minisforum, a well-known tiny PC manufacturer, which revealed the first AMD Ryzen 9 5900HX powered Mini-PC back in July, has now released the new EliteMini HX90 powered by AMD's Ryzen 9 5900HX (Cezanne) chip too. The high-performance NUC-like gadget is designed to give gamers and enthusiasts the most out of Zen 3 and Vega (as per VideoCardz.com).
The Ryzen 9 5900HX is no joke, despite being a 7nm mobile processor. There are eight cores, 16 threads, and up to 16MB of L3 cache in the Zen 3 processor. It has a 3.3 GHz base clock, a 4.6 GHz peak clock, and overclocking is possible. The Ryzen 9 5900HX has eight Vega cores clocked at 2,100 MHz for graphics, so it can play some games at low settings but won't compete with the finest gaming PCs.
Cooling Tech
The operational temperatures of the Ryzen 9 5900HX are kept in check by a single cooling fan. To increase heat transfer, Minisforum chose a liquid metal thermal compound. When the EliteMini HX90 is fully loaded, the vendor promises a noise level of roughly 30 dB.
Design and Display
The EliteMini HX90 weighs 2.65 kg and dimensions 195 x 190 x 60mm. The small PC's body is built of carbon fiber and has an aggressive and sleek appearance. Thanks to the accompanying stand, which adds 25.7mm to the device's height, the EliteMini HX90 may be used in any orientation. Minisforum also included a mounting bracket, albeit the VESA measurements were not specified by the manufacturer. However, because the EliteMini HX90 is so attractive, it would be a shame to hide it behind your monitor or television.
Memory
The EliteMini HX90 has two onboard DDR4 SO-DIMM memory slots, allowing for up to 64GB of DDR4-3200 memory. Despite its small size, the mini PC has many storage possibilities. You'll find a typical M.2 2280 slot and enough room for two 2.5-inch SATA III hard drives or SSDs.
For severe multitaskers, the EliteMini HX90 should be ideal. It can easily handle up to four 4K monitors (see top 4K monitors). The small PC has two HDMI connectors and two DisplayPort outputs for 4K monitors with a refresh rate of up to 60 frames per second.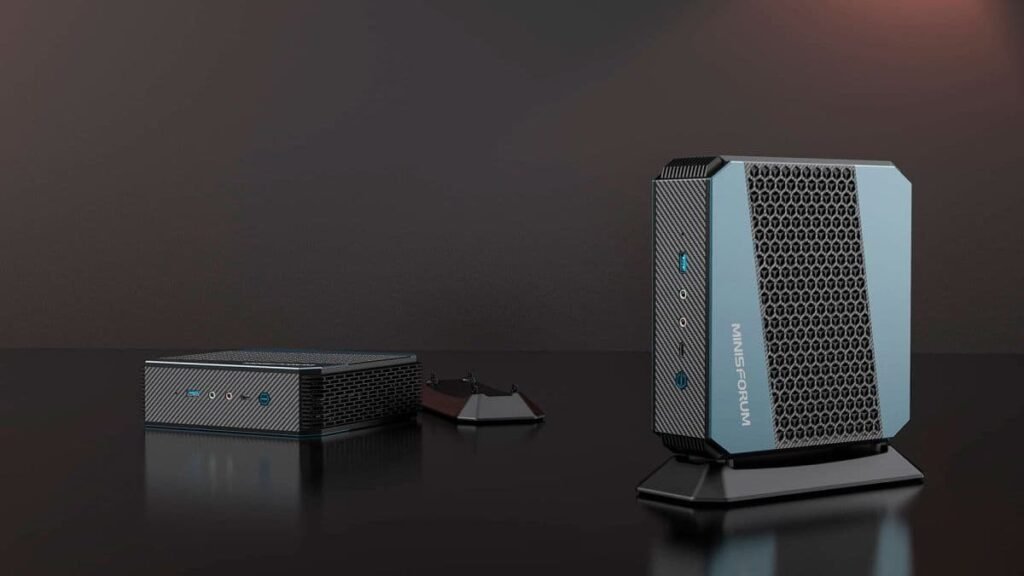 Ports
The EliteMini HX90 comes with five USB 3.0 Gen 1 connections, one USB-C port, and a 2.5 Gigabit Ethernet port for connectivity. Wi-Fi 6 and Bluetooth 5.0 are also available if you choose to stay connected wirelessly. The audio codec that powers the EliteMini HX90's audio system is unknown, but the gadget does come with four 3.5mm audio ports (two line-out jacks and two microphone jacks).
The EliteMini HX90 has a maximum power usage of 119.7W, according to Minisforum. As a result, a DC 19V 6.3A power adaptor is more than enough to keep this little guy fed.
Pricing
The most basic kit costs $729, while variants with 16GB of memory and 256GB or 512GB of storage cost $899 and $929, respectively. The top-of-the-line model, with 32GB of RAM and a 512GB SSD, costs $1009. One can check the store and you'll get a $100 early-bird discount if you order now.