Researchers have broken the world record for the fastest internet speed after constructing and demonstrating a data transmission system that makes full use of wavelength division multiplexing technology by combining different amplifier technologies, to achieve a data transmission rate of 319 terabits per second (Tb/s) through optical fibers, over a distance of 3,001 km, and is compatible with existing cable infrastructure.
Using a comparison metric of optical fiber transmission, "the data rate and distance produce of 957 petabits per second x km, is a world record for optical fibers with standard outer diameter" reports Eurekalert. Now for comparison, this new speed of 319 TB/s is almost twice the previous record of 178 Tb/s, set less than a year ago, Even NASA has only 400 Gb/s speed, with the fastest home internet speed top out at 10 Gb/s. Making this new record incredibly fast.
To achieve this speed researchers from the National Institute of Information and Communications Technology, Network Research Institute, used a 4-core optical fiber rather than the standard single-core and a technique called wavelength-division multiplexing (WDM) to break the signal into multiple wavelengths which are transmitted simultaneously. A rarely used third >120nm transmission bandwidth allowed 552 wavelength-division multiplexed channels.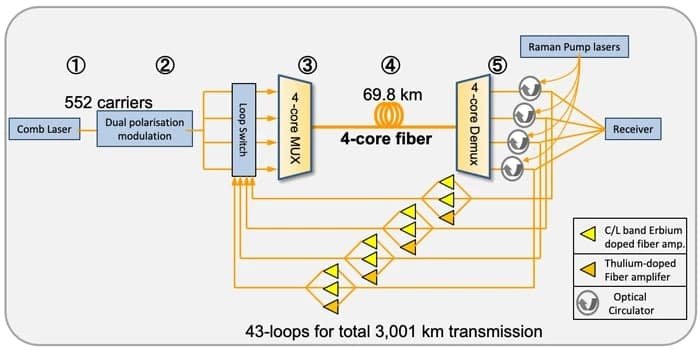 The standard cladding diameter and 4-core optical fiber can be cabled with existing equipment and is expected that such fibers can enable practical high data-rate transmission, which is further necessary for services Beyond 5G.
Over the past decade, many types of research were carried out worldwide to increase the data rates in optical transmission systems using space-division multiplexing. The growing interest in fibers with the same 125 μm cladding diameter as standard single-mode fibers has grown due to their compatibility with conventional cabling infrastructure.
The long-distance transmission was not previously demonstrated with S-band signals, which was enabled by constructing a recirculating transmission loop experimental set-up that combined 2 kinds of rare-earth-doped fiber amplifiers with Raman amplification distributed along with the transmission fiber itself.
On future projects, NICT told Eurekalert that it is "still working to develop wide-band, long-distance transmission systems and to further increase the transmission capacity of low-core-count multi-core fibers and other novel SDM fibers."
The results of the above achievement were published at the International Conference on Optical Fiber Communication last month.