WhatsApp keeps on changing or shall we say updating to provide users a better experience. And recently we get to know that WhatsApp is working on another useful feature – video upload quality – that will allow you to choose video quality from three options – Auto (recommended), Best Quality, and Data Saver – before sharing it with someone else over the app.
More About New Feature Coming to WhatsApp
WABetaInfo, who reported previously that features like Multi-device up to 4 devices, View Once are coming to Whatsapp and also shared the news of upcoming feature "expiring media", was the one to first spot this new "video upload quality" feature on Whatsapp beta update V2.21.14.6 for Androids.
This new "video upload quality" feature will give you 3 options to choose from:
Auto: This option will automatically compress the video itself as per the best-suited algorithm.
Best Quality: If you choose this option your video will be shared in the best quality.
Data Saver: If you choose this option of data saver l, the video will be shared after compressing it into less file size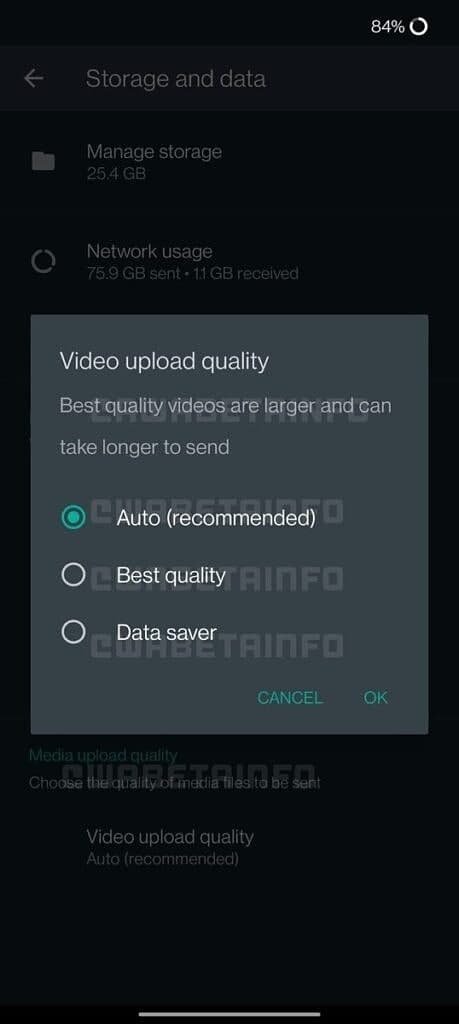 Availability of this feature?
The video upload quality feature is still under development so it's not even available in the beta channel. This feature will be made available sometime in the future providing the opportunity for those who have a speedy connection to watch and share the videos with the same quality as they watch themselves and also benefit those who have a slow connection by providing them the option to share videos in less quality, saving the data.
Although at present Whatsapp allows a maximum of 16 Mb file on Android having the approx length of 3 minutes. While talking about Telegram it allows you to share 2 Gb of files at different quality levels. So it can happen that the app will possibly increase that limit with this new feature.