Nintendo Game Boy can Mine Crypto
Nothing is resistant to cryptocurrency mining, including 32-year-old technology. TweakTown reports that YouTuber stack smashing has successfully repurposed his old Game Boy to mine Bitcoin. The mod won't make you a millionaire overnight, but it does show that an old dog can be taught new tricks.
To begin, the modder loaded his compiled ROMs onto the Game Boy using a regular USB flashcard. If you're curious about the project's tech, the YouTuber goes over it in great detail in his video.
What is needed for Crypto mining?
One of the most basic requirements for cryptocurrency mining is access to the internet. Since the Game Boy lacks wireless networking, it is unable to communicate with the Bitcoin network without the assistance of a third party. The $4 Raspberry Pi Pico comes to the rescue in this situation.
What was The Modification?
A Nintendo Game Connect Cable was modified by the YouTuber to act as a communication highway. The issue is that the Raspberry Pi Pico and the Nintendo Game Connection Cable need entirely different voltages. The Raspberry Pi Pico runs on 3.3 volts, while the Nintendo Game Connect Cable runs on 5 volts. As a result, the voltage translation was handled by a simple four-channel bi-directional logic shifter.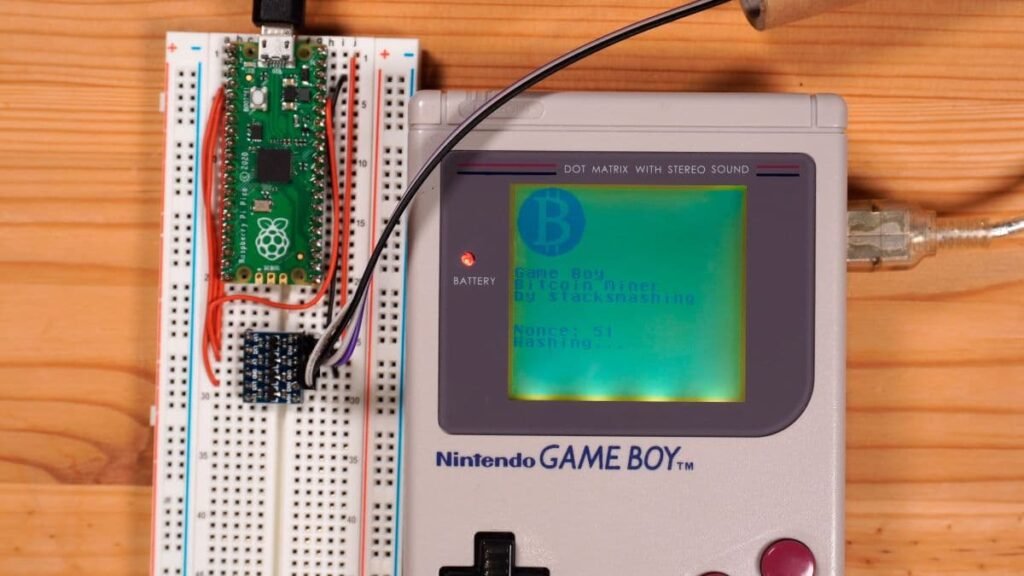 The bi-directional functionality isn't needed, but it was accessible to stack smashing. The Game Boy is connected to the Raspberry Pi Pico through the logic shifter, and the Pico is connected to a PC, which is where the Internet connection is obtained.
Speed of Game Boy
The Game Boy has an 8-bit Sharp LR35902 processor that runs at 4.18 MHz. The chip performs at a rate of about 0.8 hashes per second. Modern ASIC miners, by contrast, can generate up to 100 terahashes per second. As a result, the Game Boy is just 125 trillion times slower than the Nintendo 64.
Sit Back and Relax for Aliens to use your Bitcoin!
According to the equations, mining a single Bitcoin will only take a few quadrillion years. ASIC miners, on the other hand, are battery hogs, while the Game Boy runs on four triple-A batteries.