AMD has just announced a new Radeon RX 6000M Mobility lineup for gaming laptops with RDNA 2 graphics architecture at Computex 2021 to take aim on Nvidia's mobile RTX 30-series GPUs. The lineup GPUs are going to power premium notebook designs that are based on Ryzen 5000 platforms.
The new lineup is headed by the Radeon RX 6800M, which will be directly targeting Nvidia's RTX 3080 and will also open doors for AMD to make a long-awaited return to high-end mobile gaming. Along with Radeon RX 6800M, there are two more models – the RX 6700M and 6600M, AMD claims the new GPUs offer up to 50% faster speeds and up to 43% lower power usage, compared to its previous RDNA GPUs.
We know AMD Radeon RX 6000 Desktop lineup started with the Navi 21 GPUs but this time, the Radeon RX 6000M Mobility lineup – Radeon RX 6800M, RX 6700M, and RX 6600M – is starting with the Navi 22 GPU because like the Nvidia Ampere GA102 GPU, the Navi 21 GPU is just too big and too power-hungry for laptops to handle. Due to this, both companies are offering their 2nd best GPU on gaming laptops. Nvidia is offering its best chip on the platform GA104 and AMD is offering the best chip are the Navi 22.
Specifications of AMD Radeon RX 6800M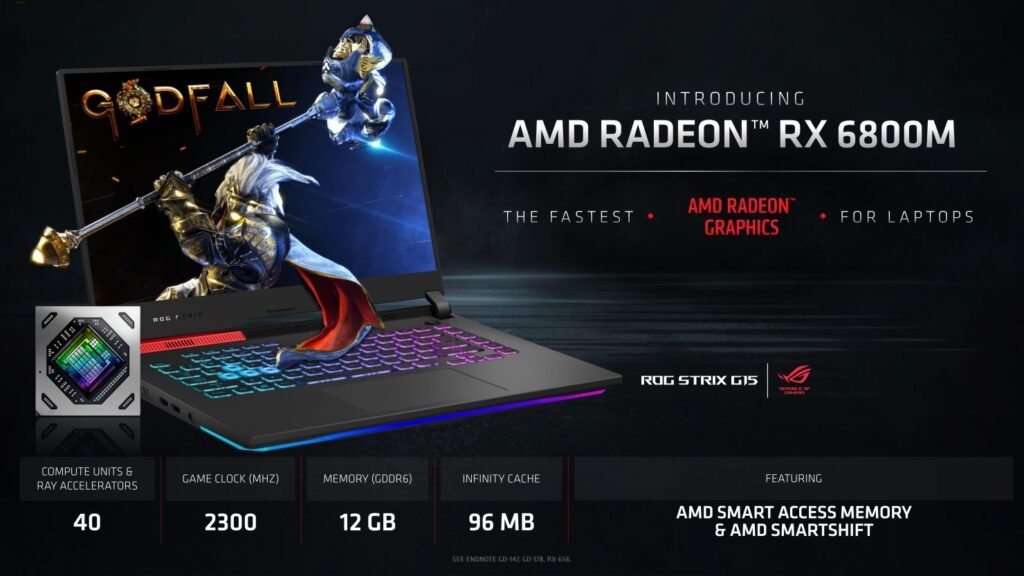 The flagship product is the AMD Radeon RX 6800M which is equipped with Navi 22 GPU SKU that offers:
2560 stream processors packed within 40 CUs
a 2.3 GHz clock speed with 12 GB GDDR6 VRAM capacity
a 192-bit bus interface
and 96 MB of Infinity Cache
All of this is packaged in a GPU with a TGP starting at 145W and has performance targeted at (120fps) 1440p titles.
As per the company's performance slides, the Radeon RX 6800M is faster than the Nvidia GeForce RTX 3080 8GB Mobility chip in several current-gen titles which makes it the fastest mobile chip yet. The most impressive thing is that AMD is touting up to 40% higher performance on the battery as compared to Nvidia's RTX 3080 mobility solution.
Specification of AMD Radeon RX 6700M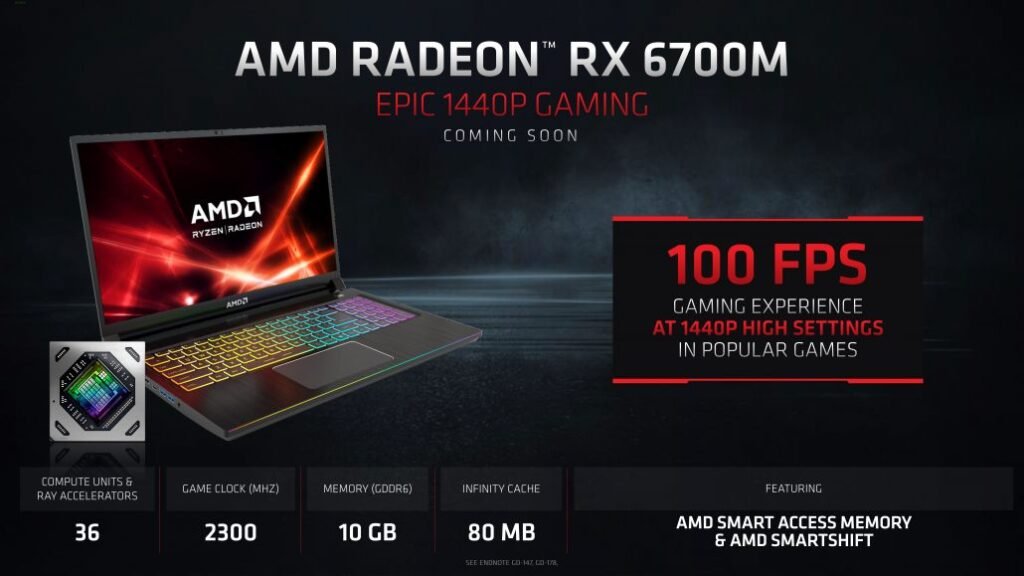 Next, we have the AMD Radeon RX 6700M based on the Navi 22 GP but rocks a cut-down 2304 core chip. It comes with
2304 stream processors packed within 36 CUs and a total of 10 GB GDDR6 memory capacity
the same 2.3 GHz clock speed but has a cut-down 160-bit memory bus interface
80MB of Infinity Cach
a TGP range of up to 135W and will be targeted at (100fps) 1440p & 1080p gaming
Specifications of AMD Radeon RX 6600M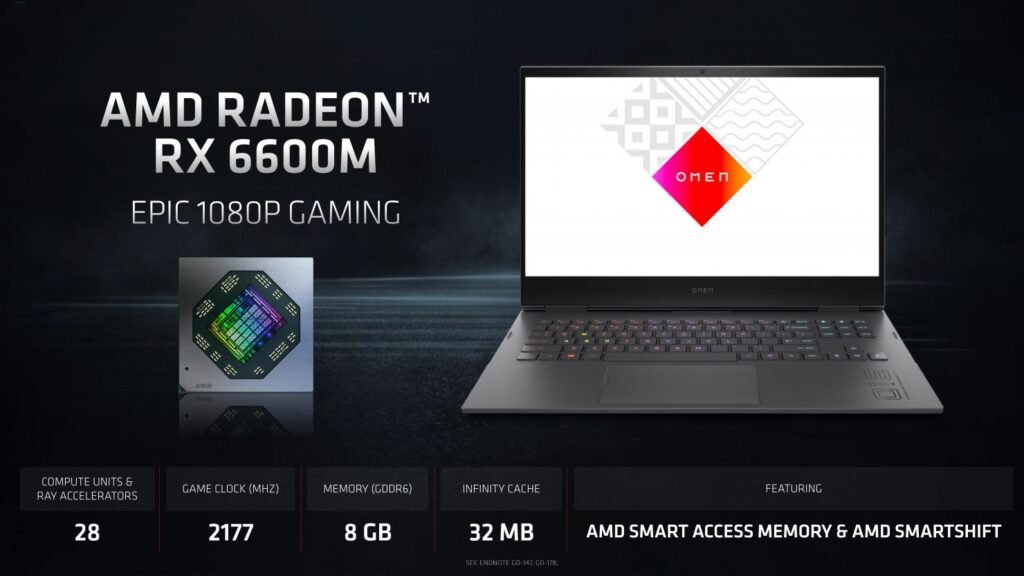 Comes to specifications, the AMD Navi 23 RDNA 2 GPU for the Radeon RX 6600M & Radeon Pro W6600M is expected to feature
1792 stream processors packed within 28 CUs and 2.17 GHz clock speed
8 GB GDDR6 memory running across a 128-bit bus interface 
32 MB of Infinity Cache
Discrete GPUs below the Navi 23 such as Navi 24 and the integrated RDNA 2
TGPs ranging up to 100 Watts
As per performance data, the AMD Radeon RX 6600M is outperforming the Nvidia RTX 3060 6GB mobility chip in several current-generation titles. 
AMD has already announced its three brand new RX 6000M powered laptops to be equipped with Ryzen 9 5900HX CPUs to be seen in early June. Laptops such as the ASUS ROG STRIX G15 and the HP OMEN 16 would be delivering an all-AMD design and superior performance compared to Intel and Nvidia offerings.