Eden is Netflix's new original anime series which pitches dystopian earth and inquests, "are humans necessary to the world?" This theme isn't new to the sci-fi fandom out there however, Eden bestows a much more optimistic tone to the post-apocalyptic genre not to mention handsomely.
Sara and her pet bot PJ are reminiscent of Mandalorian and Grogu respectively from The Mandalorian series. Ostensibly, Sara is the main protagonist and of course the only human wandering around the earth (or is she?) which is currently being nurtured by settlements of robots. The show opens up 1000 years after human's extinction on earth.
These bots were programmed to grow crops and follow acts initially crafted by humans. Two bots namely, A37 and E92 working in the apple-picking facility of Eden-3 discovered a human born. Hence, begins their coming of age parenthood journey. But there is more to this story.
In the post-apocalyptic era where evil dictator Zero works to eliminate any trace of humans on the planet, A37 and E92 decide to raise Sara. But when she discovers traces of other humans living on the planet, how will they show progress? What change will these mysteries bring to this world? Does humanity bring forth destruction? And most importantly are humans necessary to the world?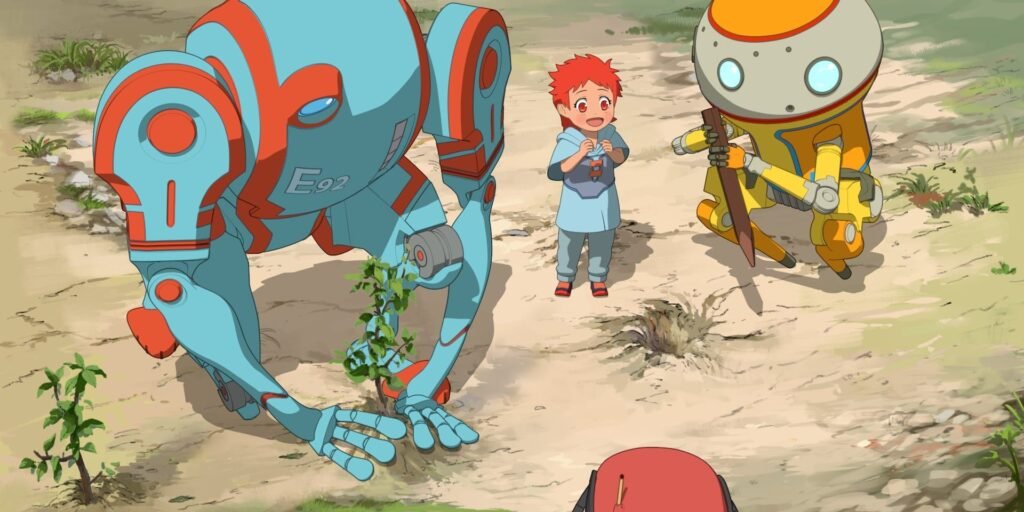 Eden didn't try to bring an incredibly new plot however, it was able to bring the best out of what it wanted to accomplish. Through the 4 episode journey, we witnessed Sara's growth, the human side of bots, the dark side of humanity, great landscapes, remarkable score, and pure human-bot relationship. All thanks to the staffers. For production, the charge is shared by Qubic Pictures and CGCG, a Taiwanese animation studio.
The show is backed up by world-renowned staffers featuring director Yasuhiro Kris (Fullmetal Alchemist: Brotherhood), character designer Toshihiro Kawamoto (Cowboy Bebop, Noragami), and music composer Kevin Lemmon (Tower of God), and concept designer Christophe Ferreira.
Eden is a straightforward science fiction that explores an ambiguous region lying between the two extremes of humanity. The simple narrative helped the idea of embracing the dark side of humanity shine bright.
The framework was august enough. Topography and character design which made robots human enough are great too. The 3D CG animation swamped the prevailing criticism regarding CG. The staffers wisely chose to blend 2D and 3D parts and use smoother 24 fps than stiffer 12 fps.
String heavy music puts together orchestral instruments and electronic synthesizers to bring a score that enhances the storytelling incredibly. Composer Penkin stated,
"Eden is one of those projects that I will cherish forever. The love put into this project not only from the team but also the musicians is humbling. Being able to work with people who gave so much trust in the direction of the music is something I will forever cherish. Please enjoy the unique world of Eden, as we combine the unique worlds of a 3D-printed 6-string violin, female voices, and electro-acoustic sound sources. We have tried to put our best foot forward to honor the amazing work of this team."
Despite its shorter 2 hours run time, Eden provides great material that everyone can enjoy and feels very cohesive. It is a binge-worthy Netflix original.