Have you ever observed the Apple ads carefully? If not, then let us tell you something interesting. Apple usually showcases its competitors' in its ad in a negative way. But surprisingly the latest ad from Apple for its newly launched Beats Studio Buds the Cupertino giant used a Samsung Galaxy S21 as a part of the ad and instead of showing its downside as Samsung did once in one of its ads mocking iPhone 12 Pro Max, Apple showcased Galaxy S21 in a positive way!!
What's Different in this Beat Studio Buds ad?
As we know Apple offers products that are the best in terms of secure and clean experience but little expensive. Now because the tech giants are so popular they must have a great rivalry in the market and so Apple can be seen mocking some of those like Android users. They have been usually using old, unattractive, or just plain made-up phones of their competitors portraying the negative aspects of Androids.
For example, in recent Apple's Worldwide Developers Conference, they revealed FaceTime will work on Android too. But the Android used was an absolutely non-existing device with huge bezels and an ugly notch. Although Apple mocked Android by using the uglier version for which it was criticized, still it once again tried putting down its rivals.
Moreover, last month the Beats app on Play Store featured Nexus 6P from 2015, while the Move to iOS transfer app on Android is stuck with an outdated HTC One M8 next to iPhone X.
But this time, the situations seem to be somewhat different. As observed (via PhoneArena) in the latest and released by Apple for the Android compatible Beats Studio Buds, they have used an Android phone as always but this time portraying its competitor in a good way.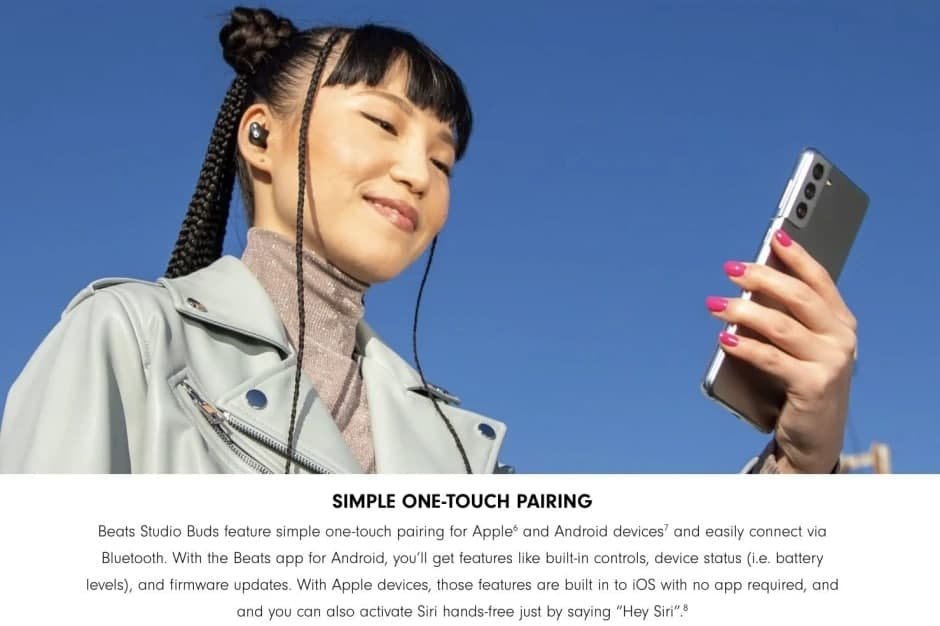 More About the Ad of Android Compatible Beats Studio Buds
In the advertisement for Beats Studio Buds on Amazon, it is seen that a young woman is immersed in listening to music on buds connected to an Android – Samsung Galaxy S21. As per the design of the ad, it gives the audience a thought that Android could be stylish and fun too, creating a positive impact on users about using Android.
Does This Change In Apple's Mood Hints Towards Something??
Well, this might be an error but it doesn't seem like one. Then this may be an intentional move saying that Look, even your premium Android phone will also go great with Apple hardware. Imagine if you had an iPhone………
Yes, this might be a well thought, strategic market move of the tech giants offering this ad as bait to the audience and attracting them towards the Apple iPhone.
So readers this was all about the post. Do tell us in the comment section below what you think about this mastermind move of the tech giants.