Apple's main event of the year for Apple Developer is WorldWide Developers Conference 2021 (WWDC 2021). This time also Apple comes up with action-packed announcements. They have come with some new releases and with updates. The WWDC 2021 event announcements are related to their entire ecosystem, including iOS 15, iPadOS 15, watchOS 8, Monetary, updates to Siri, some AirPods upgrades, and many more. Let's have a look at all announcements of the WWDC 2021 event!
iOS 15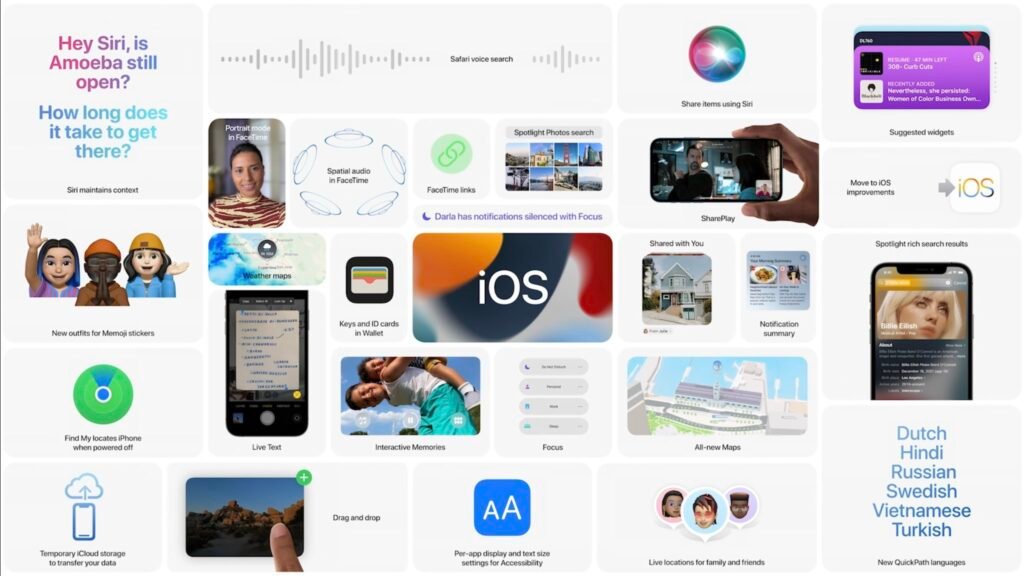 The spotlight of the WWDC 2021 event is iOS 15. It comes up with amazing improvements for FaceTime, a new look to notifications, updates in memories in photos, changes in the weather app, and more. For more detailed info check our full coverage of iOS 15.
iPadOS 15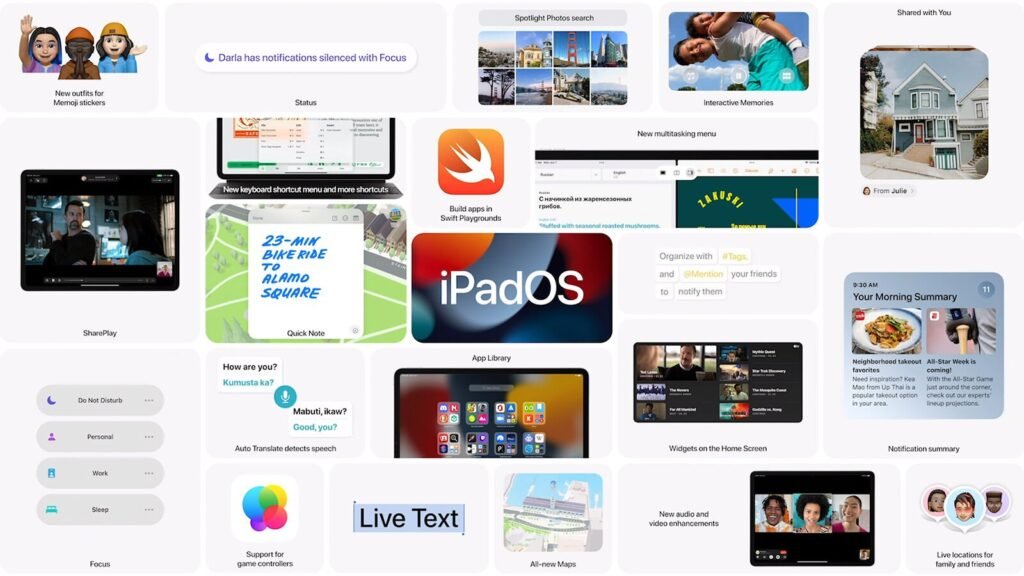 At WWDC 2021 event Apple announced the iPadOS 15 which brings iPhone features like adding widgets to Homescreen, App Library (with addition), and access to translate app. The main feature iPadOS 15 comes up with multi-tasking, app-shelf, Swift Playground apps, and more.
Widgets:
iPadOS 15 coming with redesigned widgets that you can place anywhere on the Homescreen.
Multi-Taking:
Developers added a new multi-tasking control that can be accessed from the top screen. You can also swipe down to minimize apps on an app shelf which is positioned at a lower portion of the screen. This feature depicts the desktop platform for minimized apps.
Multi-tasking also gives access to Split View, Slide Over, and opening apps in full-screen. Through app-shelf we can switch between apps or drag one app over the other to view both apps side-by-side.
App Library:
Access to the app library is quick through docks. Apps you don't need on the home screen you can hide it similar to the iPhone.
Quick Note:
It allows users to swipe up from the bottom of the screen with Apple Pencil which will open the notes file immediately. It also adds a link from a web page from where you are creating notes.
Translate App:
Translate app on iPad is come up with improved real-time language translations, and it added the ability to translate the text to all your apps.
watchOS 8
At WWDC 2021 event, WatchOS 8 was focused on users' mental health. The developer has made some changes in Apple's WatchOS related to your health. The Breathe App of the apple watch is coming with different reflection modes. In Sleep mode, your respiratory rate is tracked which shows how effectively you're sleeping.
When you are going to practice Tai chi and Pilates then it would be tracked. Along with it a new workout in Fitness + and an artist series featuring music will help you get energized.
Apple Watch is helping users to communicate with others without using their iPhones through the apple watch crown. It is using to move the cursor on your watch. You can now add an emojis icon from the scribble view on your watch.
Apple also updated the Portrait Watch face. The watch will now take great photos from your iPhone and uses them to create a multi-layered face with depth and you can also change the photo compositions.
Apple added some new features to the health app that will share your health report with doctors and to your family members.
macOS Monterey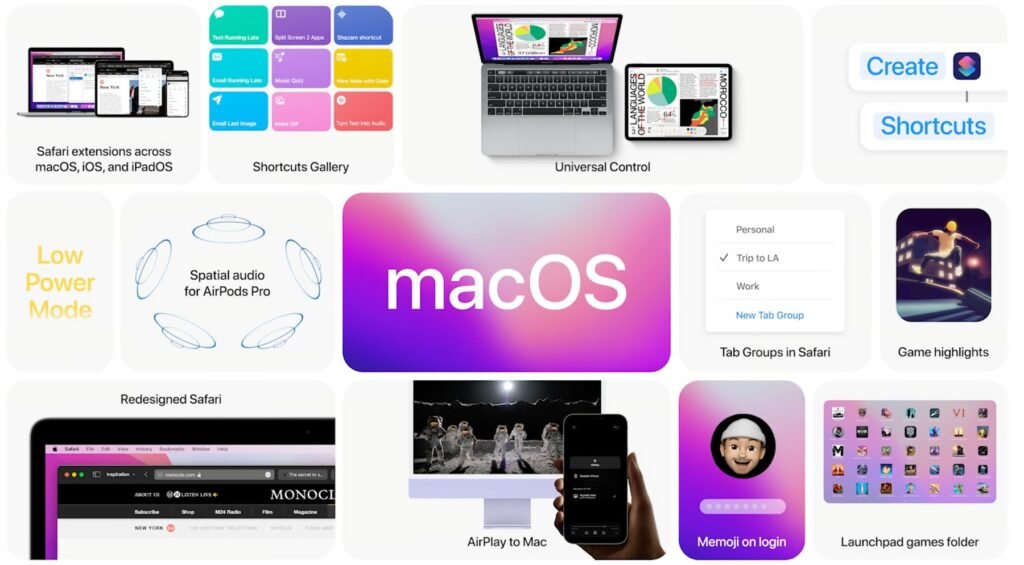 Up next is macOS which got a little smaller, but still an interesting update at WWDC 2021 event. macOS Monterey coming up with a new feature 'Universal Control' which will allow you to drag and drop files from one device to another device. Through this feature, you can use the same mouse and keyboard across your iPad and Mac. It can move files between more than two devices.
In addition to this apple is adding AirPlay to Mac so that you can play, share and present content to your mac. Audio can also be shared by using Mac's speaker.
Redesign of Safari on the Mac: There will be a new look for tabs and tabs group. And in iOS tab bar would be located at bottom of the screen to ease access. There will be extensions of Safari on iPhones and iPad.
Here are the macOS Monterey features that are not coming to the Intel Macs as per The Verge:
FaceTime's Portrait Mode
Live Text
Globe view on Apple Maps
Detailed maps for cities such as London, Los Angeles, New York, and San Francisco
Offline, on-device dictation
Unlimited time on-device dictation
Siri
Their-Party Accessories:
Apple announced that they will share development tools so that third-party apps can also use safari on them. They demonstrated this using the latest Ecobee thermostat during the WWDC 2021 event. Ecobee SmartThermostat is the first of its kind to get built-in Siri support
On Device Speech Recognition:
Now Siri will work without the internet does not send your requests to the web and processes your most requests on the device.
HomeKit
Apple now allows iPhone to unlock your home with a compatible smart lock. Now you can also control tvOS using voice and HomePod device.
Health
Next up at WWDC 2021 event was Apple Health, it has several key features focused on the sensors on your phone. For example, the Health app will now track users' Walking Steadiness – meaning to check if users are steady when they walk, or if they're at risk of falling.
Along with the support of Trends – which can give insight into potential health issues. Last but not least is Apple is also making Health Sharing available, allowing you to view your family's health stats, labs, and more. Caretakers can also get alerts for high heart rates as well.
Privacy
Apple announced some privacy features related to your mail and safari at WWDC 2021 event. Apple mails will block the tracking pixels and hide the IPs linking with different websites. It is also adding a new section 'App Privacy Report'. Apple is also rolling out some updates to iCloud under the name iCloud+.
iCloud+ gives you "access to a private relay service, a new ability to create alias email addresses, and the capability to connect more security cameras with HomeKit video that doesn't count against your storage. It's included with your iCloud subscription," said Apple WDDC 2021 event.
AirPods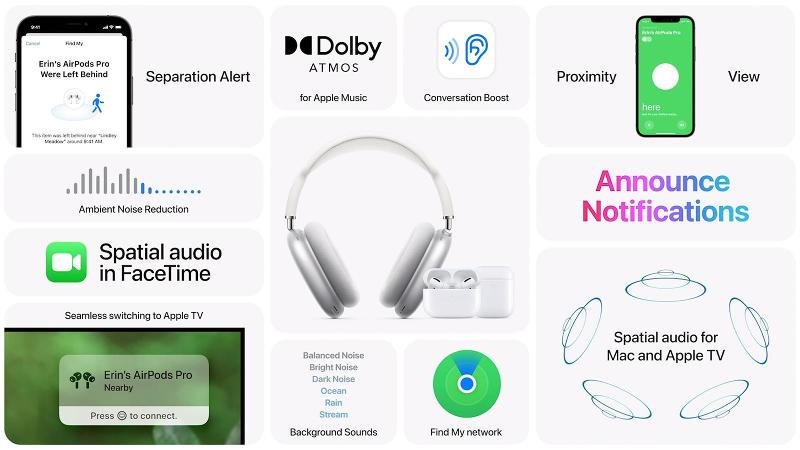 We don't get a chance to see the new AirPods at WWDC 2021 event, but Apple has added a conversation boost feature that will help mild hearing loss people. It helps to stay connected in conversations through computational audio and beamforming microphones. It also reduces background sound and enlightens the person's voice for a proper conversation.
If you lose your AirPods now you can find them easily with the help of the FindMy app. The multi-dimensional sound experience of Dolby Atmos is coming with select albums from some popular artists.
For Developers
At the WWDC 2021 event, Apple announced that it's making it easier for developers to customize their app's product page to cater the message to different types of users. On the Mac, developers can use the new Object Capture tool, and also Mac now supports Testflight – make the development process more like that on the iPhone. Swift also now supports Concurrency – helping in making the code that's less prone to errors.
Apple also introduced Xcode Cloud to developers so codes can be tested in parallel across multiple devices. Developer betas of the OS releases will be available today, and public betas are coming next month. Public releases will be arriving in the fall, said Apple at WWDC 2021 event.
I hope you like this information and stay tuned with us to get more things like this!