The manga community stood aghast to the official announcement released by Hakusensha Young Animal magazine that Kentaro Miura has passed away on May 20th. Author born in 1966, is renowned for his internationally acclaimed, debut manga Berserk which came in 1989. His demise is a substantial loss for the manga community. Though, the world recognizes Kentaro Miura as the mangaka and author of Berserk, however, his legacy reaches out far beyond. "Miura-sensei was a master artist and storyteller and we had the great privilege of publishing several of his finest works, including his masterpiece, Berserk." – Dark Horse comics tweeted.
Miura introduced a dark and tyrannical aspect to the fantasy genre. His visual storytelling, smooth strokes, poetic style of writing, intensely detailed work, and Hieronymus bosch inclined art style all created unparalleled standards in the manga industry. But his whimsy and sunny personality fulfilled his legacy. Young Animal stated, "We are not able to find any words. What we remember is his smile, he always cheerfully talked about his favorite manga, anime, and movies, when he saw our editorial team. We have never seen his angry face. He had a pure heart like a little boy".
At 11 years old, Kentaro Miura employed India ink and embraced professional manga drawing techniques for his second manga series Ken e no Michi. Assisting George Morikawa (author-Hajime no Ippo), he entered the world of professional manga at age 18. Futatabi, a sci-fi drama, which was fashioned in 1985 got him admitted into an art college in Nihon University and later bagged him a nomination for Weekly Shonen Magazine's Best New Author. That very year he made a post-apocalyptic one-shot, Noa, which ultimately failed due to some disagreement.
During his days in university, Miura drafted a 48-page manga prototype. He submitted a revised version of the prototype as the first chapter of Berserk to Monthly Animal House magazine in 1989. In the year 1992, the manga was shifted to Young Animal Magazine (replacement from the same company).
Kentaro Miura has worked with Buronson on three occasions, first in 1989 for King of Wolves and then in 1990 for its sequel and at last in 1992 for manga title Japan. It was with "The golden age" arc that brought Miura huge success. Thereafter, he devoted himself entirely to Berserk manga and several projects associated. In 2013 he brought to us, Giganto Maxia which was based on Greek mythology. In the year 2019, he started working on Duranki.
Amid the destruction, revenge, tragedy, war, trauma what Berserk brought to the audience was a grounded story filled with real emotions. The manga bagged Kentaro Miura the Osamu Tezuka Culture Award for Excellence. There is 3 anime adaption for the manga series. The excellently written anti-hero Guts and the grounded story inspired many aspects of the fantasy world whether it's the character designing of FFVII's Cloud, the Armor designed for RPG Dragon's Dogma, Siegfried from VG Soul Caliber, or dark fantasy setting in VG Dark Souls.
Apart from the gaming world, several anime have drawn inspiration from Berserk, from Goblin Slayer to Finland Saga and Castlevania. During its over 30 years run the series has been subjected to regress hiatuses but, there is no denying the influence this series marked on the fantasy genre altogether.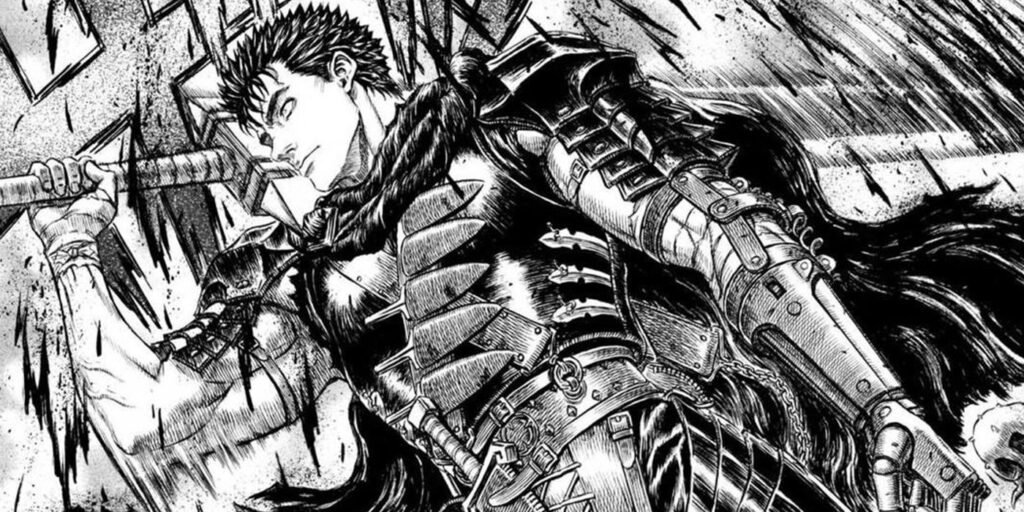 Young Animal in its January issue published the latest 363rd chapter of the manga. Due to the unfortunate demise, the future of Berserk remains uncertain. To know that it might never be finished is sad however, one of the assistants from the studio that Kentaro Miura was working with tweeted, "They are uncertain about the series' future and are not in a position to decide on it. Even if something is decided on, it will take time". This does open up many possibilities and leaves the door open.
Kentaro Miura set unreachable standards for a good protagonist, art, rivalry, story, writing, and author. People are mourning across the globe for the man who touched hundreds of thousands of lives through his work, showcasing what Miura found the best, he never stopped developing, he grew with every single chapter of his story and poured decades of time and sweat into a gem named Berserk.