As the technology improvises over time hackers also find new ways to target people. According to Avast Antivirus's report (via BBC), cybercriminals deceiving people by providing free game versions with mining malware. This malware is known as Crackonosh which is hidden in AAA games like NBA 2K19, Grand Theft Auto V, Far Cry 5, The Sims 4, and Jurassic World Evolution.
Crackonosh Malware
Crackonosh malware is a part of crypto-jacking schemes. This new malware is called 'Crackonosh' because it is assumed to have Czech origin. This malware gets downloaded with the new free game versions available on the internet and then it will use the computer's processing power to mine cryptocurrency.
This malware is integrated with free versions of games because the gamers are the easy targets and they have gaming devices that have the most powerful processors and graphics chips which help them to generate crypto mining at a high rate.
Until now hackers have earned more than $2 million in Monero since June 2018. Monero Coin is infamous as it is used by cybercriminals and it is difficult to trace in comparison to other cryptocurrencies like Bitcoin.
Avast researcher Daniel Benes told CNBC, that there are 2,20,000 users affected by this malware and there are 800 cases daily. This malware is spread all over the world and the most affected countries are the US, Philippines, Brazil, and India. The crackanosh affected 6% of the overall people. These figures reported by Avast are based on the user's installed Avast Antivirus software on their system this means there can be more cases.
Crackonosh malware is not easy to detect on your system as it can disable the security software and updates. You can detect this malware on your system if its processing speed is slowed down, wearing out components through overuse, and if the electricity bill is increased. In end, it leads to replacing the system.
Cybercriminals are making digital currency using Crackonosh as it uses computer processors to mine cryptocurrency. According to Cambridge researchers, crypto-mining for Bitcoin uses around 121.36 TWh a year. So this the reason for increased electricity bills.
A user also reported Crackonosh malware on Reddit. Although the user does not know about the Crackonosh his avast software was uninstalled. So he shared his problem with users on Reddit. Have a look at it!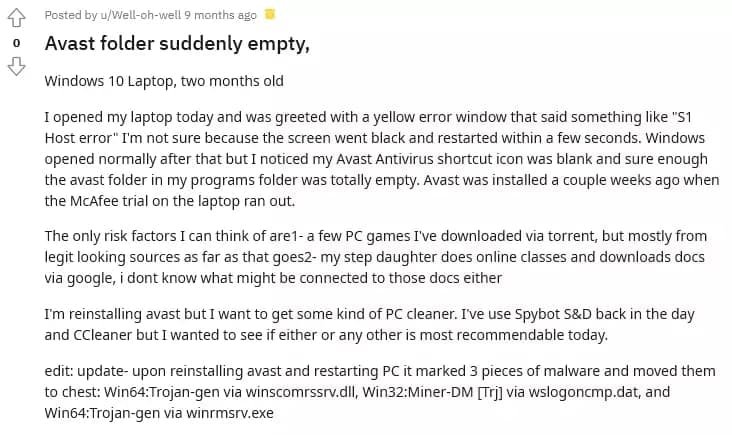 Avast researcher Daniel Benes says that attacks like these affect people as long they continue downloading cracked software. He also says that there is nothing that you can get at for free you have to pay for it somehow.
Avast company is not the only company that noticed Crackonosh software but Kaspersky warned about it earlier this month, CISCO also found about it on cheat software for gamers in March, and there is a Japanese tech services provider, NTT also found about Crackonosh malware before 2021. We can only be safe from it when we don't download free or pirated software and games.
I hope you like this information and stay tuned with us to get more information like this!