Fortnite will host a three-day in-game musical event – Rift Tour – starring a "record-breaking superstar" next weekend, on the 6th and 8th of August. The Rift Tour will involve "a musical journey into magical new realities where Fortnite and a record-breaking superstar collide," said Epic in a statement.
The announcement comes after a slew of leaks and Epic's own court documents revealing that the game would include pop sensation, like Ariana Grande and Lady Gaga in some form.
And now many fans are speculating that Ariana Grande can arrive as record-breaking superstar in the Rift Tour event on August 6th. This also makes sense as August 6th is international Ariana Grande day.
However, the Rift Tour event is set to begin when the game's current countdown clock hits 0 on Friday, August 6th at 11.05 pm UK time.
The experience will be available at various showtimes over the event's three days, according to an Epic Games developer, following the same pattern as last year's extremely successful Travis Scott performance.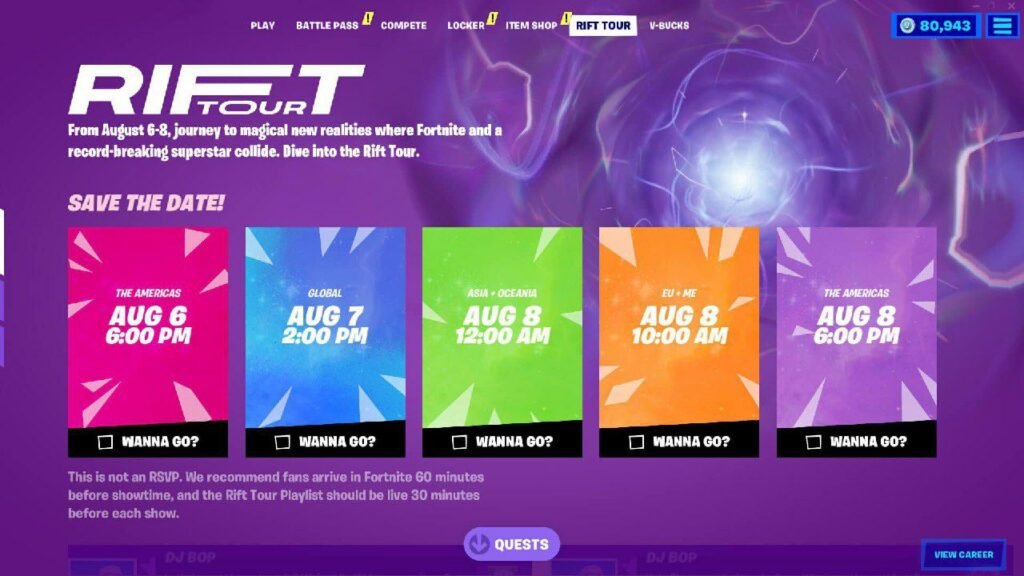 The first of many new in-game quests teasing the experience is now available, with more to come as Fortnite's island prepares for the arrival of the celebrity. There's also a new in-game social tab featuring showtimes and the option to invite friends.
As the game's island continues its UFO-themed season, this event seems to be a mix of pop concerts and Fortnite tale, unlike the previous year.
Epic said today that additional information about the event would be released in the coming days, so stay tuned for more information.