Genshin Impact has generated about $874million in revenue from its iOS and Android versions in its first five months on the market alone. Securing the third position, by outperforming Pokemon Go, in the list of the world's top-grossing mobile games of the past five months. Honor of Kings and PUBG Mobile both are on the top of the list with an earning of over $1billion in the past five months.
According to a new report from a data analyst firm SensorTower, the free-to-play adventure "Genshin Impact" from publisher miHoYo has outsold Pokemon Go by more than $200 million to claim his no third spot in the list of App Store and Google Play revenue charts. Now it's worth mentioning that SensorTower has only tracked the metrics on mobile platforms, so the true earings of Genshin Impact, which is also available on PC, Nintendo Switch, PS4, and PS5, could be much larger than this.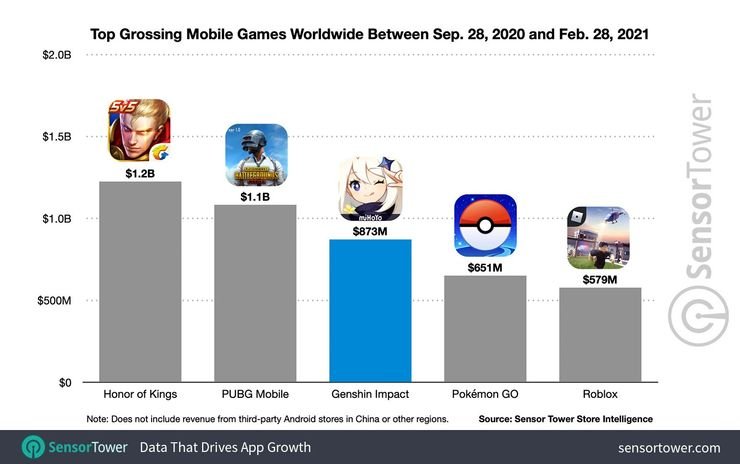 The main sources of the game's earnings are those players who spend money on the game in the hopes of receiving access to their favorite characters. And currently, Genshin Impact has generated more than 29% of its global revenue from China further followed by Japan and the United States.
Made in Unity Genshin Impact was launched back on September 28, 2020, on all major platforms including iOS, Android, PC, Nintendo Switch, PS4, and PS5. Since then the open-world adventure game is receiving regular updates. And has got a new trailer recently showing that Genshin Impact has no intention of slowing down any time soon.