Last week 3DCenter has put out a new report about falling prices of GPU in Europe and showing a boost in supply at European retailers, as well as lower prices. This indicates that the GPU shortage is ending.
According to 3DCenter's report, AMD graphics cards see neither a major price reduction nor better availability in month-to-month, and their pricing is down from a peak of 214% above MSRP but is still at 181% above MSRP. On the other side, Nvidia saw the most shift in their prices and has dropped from the peak of 304% above MSRP to 91% above the MSRP (which is a 113% difference).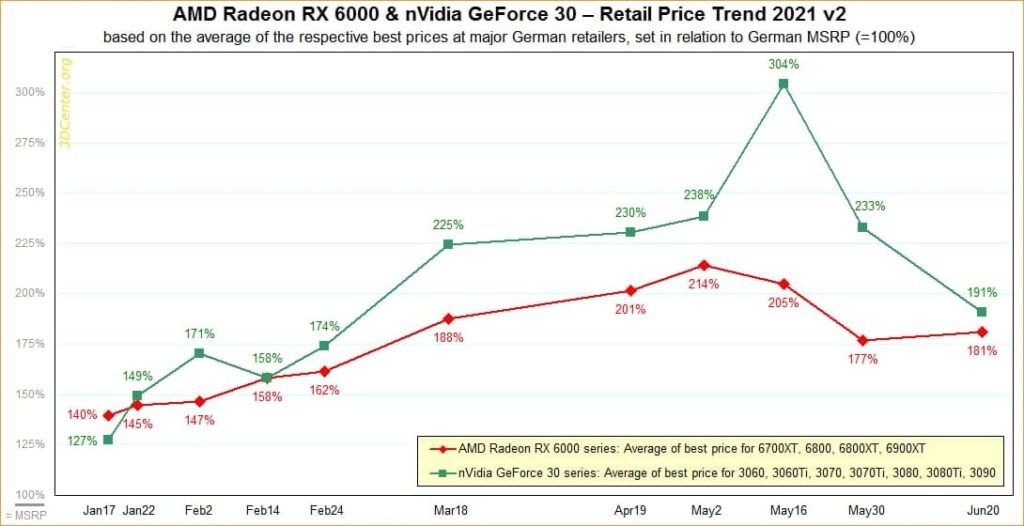 Last month Nvidia has reduced the shipment of its GPUs as the company was shifting its production to the Lite Hash Rate series, which pushed its orders back and now are progressively being reduced as LHR models are shipping to the customers.
We cannot expect the pricing to go down as quickly as it rose in GPU shortage because retailers have ordered the cards at higher prices and now they don't want to sell them at a loss. After some point distributors might lower their pricing which would allow retailers to offer discounts and still make a profit.
The introduction of GeForce RTX 30 Ti and RTX 30 LHR (Light Hash Rate) series with the recent ban on crypto mining in China has led to a decrease in the price and bringing GPU shortage to end. Meanwhile, things from here are not looking for AMD GPUs and one of the reasons for this could be that the company's RDNA 2 lineup only has four graphics cards (Nvidia's Ampere lineup has seven) and they haven't released any desktop graphics cards in the last two months, expect the mobile RX 6000M series based on RDNA2 GPUs.