As the 5G era has started the companies are developing processes that can boost 5G communication. Among them is Samsung which announced that their foundry division has developed 8nm process technology for Radio Frequency (RF) chips. This chip will improve the performance and power efficiency of 5G communication chips.
Samsung's 8nm RF One-Solution to 5G communication
Samsung has started its first RF foundry in 2015 with a 28nm process. After that they come up with a 14nm process and with this company has manufactured more than 500 million RF chips for smartphones since 2017.
Now, the Samsung foundry team has developed an 8nm process RF technology which will be going to be one solution for 5G communications as it incorporates both multi-channel and multi-antenna design. Through this development, Samsung's leadership in the 5G semiconductor market will expand on mmWave and Sub-6Hz.
8nm process will improve power efficiency by 35% and reduces chip area by 35% as compared to the 14nm process claimed by Samsung. The RF chips convert the digital signal from the modem chip into an analog signal, convert this signal into radio frequency so that we can use and then transmits it to the modem chip. It includes a logic circuit for frequency band change, digital-analog signal conversion, and an analog circuit area for frequency reception and amplification.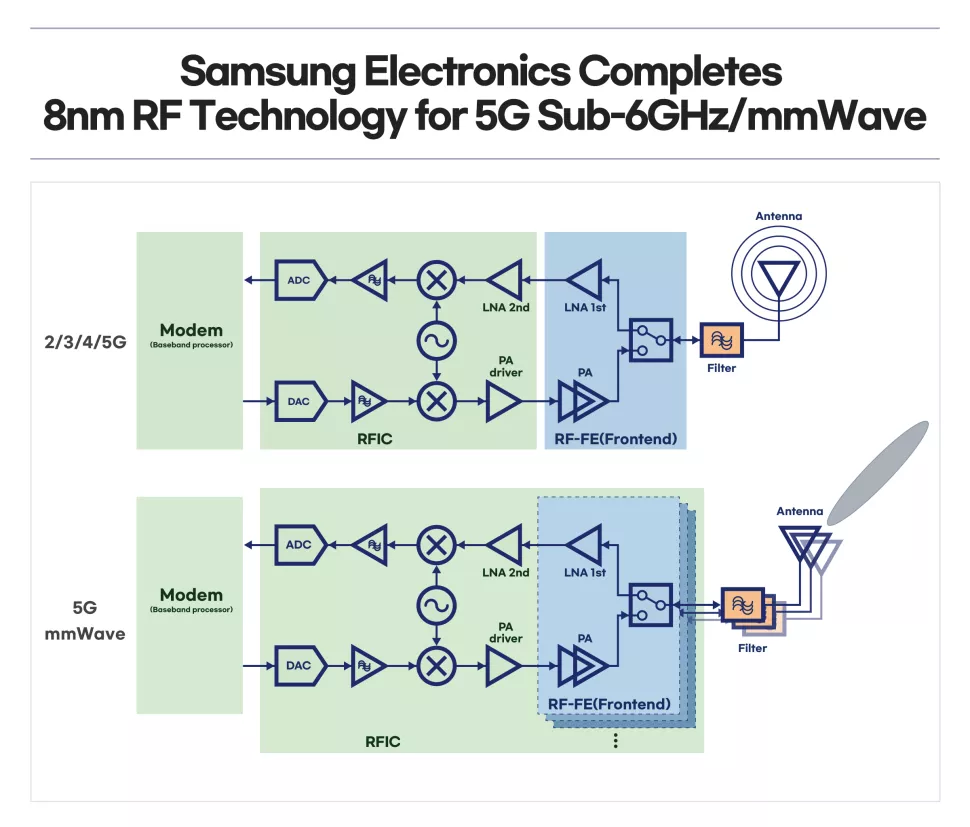 Samsung has developed a new architecture for the 8nm process to improve the performance of RF chips while using less power. They named this architecture RF extreme FET (RFeFET). This architecture will reduce the number of transistors and power consumption, area of an analog circuit. This architecture also helps in enabling high-performance 5G platforms.
Hyung Jin Lee, Master of Foundry Technology Development Team at Samsung Electronics, said that "an 8nm process RF chip will be going to a great solution for long battery life and excellent signal quality on compact mobile devices."
Samsung is currently the world's biggest chip manufactures. Now, through the development of the 8nm process RF chip Samsung will strengthen its position in the contract chipmaking sector.
I hope you like this information and stay tuned with us to get more things like this!